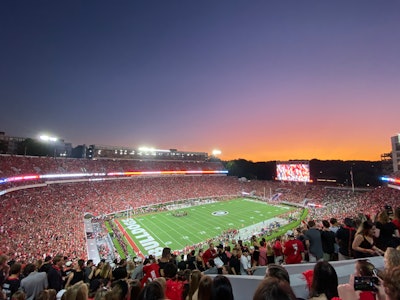 Photo courtesy of Ugadawgs12
The University of Georgia this week will decide whether to proceed with a $68.5 million upgrade to Sanford Stadium.
According to WUGA, part of the plan would improve Gate 9 by creating a new pathway designed to manage congestion. The South 100 concourse would double in size, and restrooms and concessions would be added to the area. Permanent restrooms will also be added on the southwest 300 level corner along with portable concession stands.
Athletic director Josh Brooks told WUGA the current press box would be replaced with premium spaces for high-end donors. Meanwhile, a press box would be built on the southwest corner of the stadium, including six additional suites in that area.
Work on the first phase of the project would begin at the end of the coming football season and would wrap up before the following football season. Phase two would be completed in time for the 2024 season.