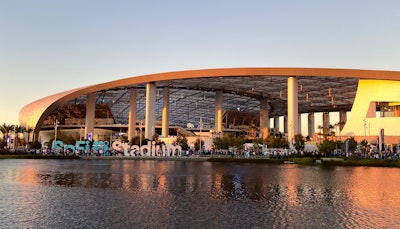 Photo courtesy of Troutfarm27
A man died Wednesday after he jumped into a man-made lake at SoFi Stadium, the home of the NFL's Los Angeles Rams and Chargers.
According to the New York Post, the 47-year-old man was trespassing on the property in Englewood, Calif., at about 6:00 a.m.
Inglewood mayor James Butts said during a press conference that the man waded into the 15-foot-deep lake, swam to the middle and never resurfaced.
The man had to climb a fence to enter the area. Stadium security guards who spotted the man on surveillance cameras immediately called the police, but the man believed to be dead upon their arrival.
Crews searched the lake for three hours before recovering the body from the lake.
Butts said police did not know why the man was at the stadium and that he didn't believe SoFi Stadium could have done anything to prevent the situation.