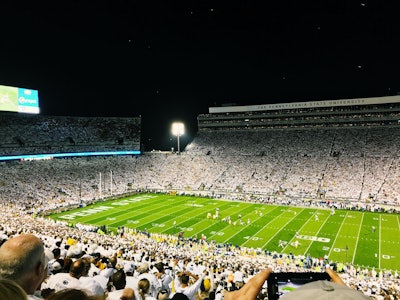 Studies have been conducted, long-term plans have been discussed, and administrators have been endlessly asked about what Penn State will do about Beaver Stadium, the iconic 107,000-seat venue on the east side of the university's State College campus.
Pat Kraft, who took over for Sandy Barbour as Penn State's athletic director July 1, didn't have specifics on Wednesday when he addressed reporters during Big Ten Media Days, but he knows those will be needed sooner rather than later.
"Listen, I've played there," Kraft said, as reported by Blue White Illustrated. "I've been on the sidelines as an administrator. I get goosebumps every time I come from the airport and I look up at our logo lit up. It's a special, iconic building. I got very emotional walking with my two children, that gate opening, and my face on that scoreboard. I get goosebumps thinking about it now, I love that building. And it's a historical building in my eyes.
"What I have to figure out is, is it safe? How long can we keep it standing? That's the question. But you know, if it's gonna fall down, then you got to figure it out. We're gonna do everything to keep that thing up and running."
There have been only a couple of instances, including one concert, in which the 62-year-old stadium has been used for anything but Nittany Lion home football games. That's, at most, seven times a year. That could be a reflection on the facility's lack of updated amenities or administrators' lack of creative vision, according to BWI. In any case, something's likely to change on Kraft's watch.
"We got to find other ways to use it," Kraft said. "That building should be used more than seven days, in my opinion. We have to find ways to do that. We've got to provide ourselves the opportunity to really generate more revenue off it.
"We got to make decisions, and then move on to the next thing. And so that one is a big one because time, money, and we have to really focus. There was a study. We're starting to peel the onion on that. What does it really mean, and what's the next step? I think we'll have that answer in short order.