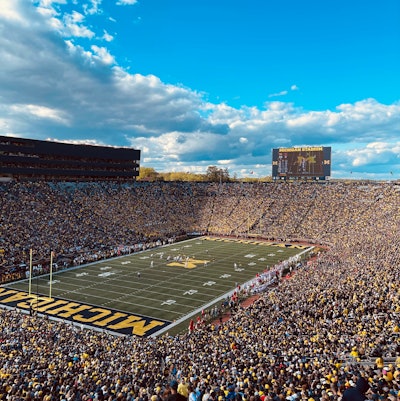 The University of Michigan's home football venue will feature a lineup of new menu items, unveiled last week by Sodexo Live!, the athletic department's hospitality partner.
As reported by FoodService Director, Michigan Stadium's executive chef, Chris Carr, created the menu, which covers everything from an appetizer of Sweet Chili Chicken Lollipops to Caramel Apple Tarts for dessert. The items are designed to feed game watchers from the main concourse to the premium suites, including catering spreads for private parties.
Carr's lineup also includes Bourbon BBQ Brisket, featuring sliced hardwood-smoked brisket finished with a bourbon barbecue glaze, herb-roasted fingerling sweet potatoes, caramelized shallots and roasted Brussels sprouts. Smoked Turkey Brie — a baguette stacked with sliced smoked turkey, brie cheese, baby kale and cranberry aioli — will be among new sandwich options.
Southwest Quinoa Salad — a toss of tri-colored quinoa, roasted red peppers, black beans, dairy-free cheese, cilantro and roasted heirloom grape tomatoes with a charred poblano vinaigrette — has been created to appeal to salad preferences, dessert will encompass a Caramel Apple Tart made with local Michigan apples and served on a bed of house-spiced cider caramel in a flaky tart shell.
The menu includes a new local partnership with Fairway Packaging Co. to provide a selection of all-natural meats. Three popular operators from the area are also back this season — Barry's Bagels, Washtenaw Dairy and Dearborn Sausage Co.
"Our partnership with Sodexo Live! helps us continue to provide our fans with an all-around great time when coming out to cheer on any of our teams," Kurt Svoboda, associate athletic director at the University of Michigan, said in a statement. "Chef Carr's new menu items will really resonate with Wolverine Nation and give visitors one more thing to look forward to this season."
Sodexo Live! is also committed to working with Michigan Stadium on its zero-waste initiatives, in sync with the university's sustainability goals to reduce waste sent to landfills by 40 percent and strengthen the sustainability culture on campus, FoodService Director reported.