Check out these products as seen in the September 2022 issue.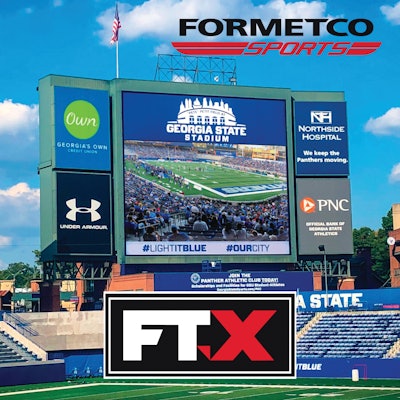 The Formetco FTX Outdoor Video Scoreboard is the most-reliable, most-energy-efficient, longest-lasting and lowest-maintenance outdoor video scoreboard available. The FTX comes standard with a 10-year parts-and-labor warranty, 24/7 live diagnostics and customer support. Formetco's universal FTX module size and design offers a simple cost-effective option for future upgrades on LED outdoor scoreboards. FTX modules are interchangeable and available in a variety of pixel pitches.
www.formetcosports.com | sports@formetco.com | (833) 533-7267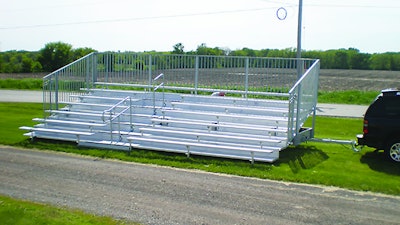 Kay Park Speedy Bleachers give spectators more space to spread out at events, and are easily towed between venues as needed. Highway-towable, hydraulic-folding Speedy Bleachers are easily operated by one person and can be set up within minutes. Speedy Bleachers come in a variety of sizes — from seven to 10 rows high, and 27 to 45 feet long — to meet various crowd-size needs. Heavy-duty galvanized steel and aluminum construction ensure Speedy Bleachers can withstand all weather conditions. Equipped to meet safety codes, versatile Speedy Bleachers will serve fans for years.
www.kaypark.com | sales@kaypark.com | (800) 553-2476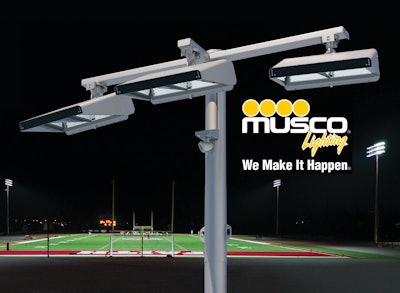 Musco's Total Light Control for LED system is the cost-effective solution of choice for LED retrofits at sports fields across the country. When it comes to retrofits, just swapping out old lights one-to-one with new LED fixtures won't deliver the light levels or performance that facility operators need. TLC for LED includes new cross arms for structural reliability, patented glare and spill control, and a long-term parts-and-labor warranty.
www.musco.com | lighting@musco.com | (800) 825-6030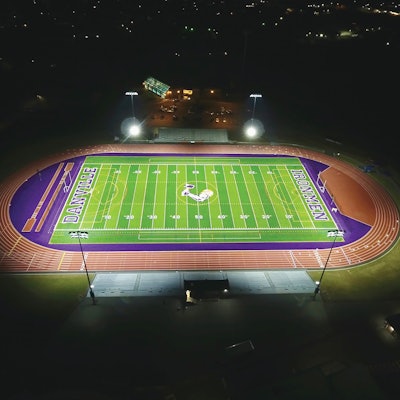 Turnkey athletic stadium solutions can be completed under the Keystone Purchasing Network, a national cooperative purchasing program, by utilizing FieldTurf, KPN's athletic fields, courts and tracks contract. Minimize project costs with KPN and work with pre-vetted, experienced manufacturers and builders that understand all types of facilities. KPN performs a public and competitive sealed-bid process, and awards contracts to the lowest, most-responsive and most-responsible bidder to ensure that clients receive the highest-quality products at the lowest price.
www.thekpn.org | info@thekpn.org | (888) 490-3182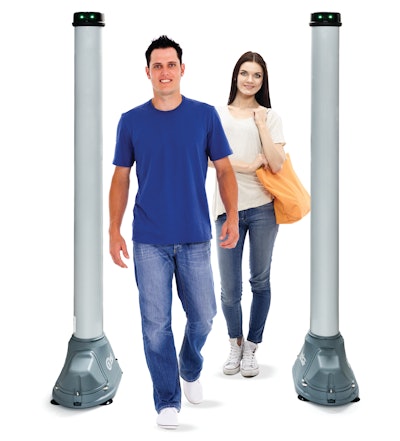 CEIA USA weapons-detection and screening systems take the guesswork out of security screening. Incorporating the latest in threat-detection technology, CEIA sets the standard for safety, convenience and accuracy. The new CEIA OPENGATE quickly and automatically screens guests' backpacks and bags. Featuring high throughput and near-zero nuisance alarms, OPENGATE is designed to detect handguns and mass-casualty threats such as high-caliber assault weapons and IEDs. At only 25 pounds, it is easy to relocate and installs in less than one minute for indoor and outdoor operations.
www.ceia-usa.com | security@ceia-usa.com | (833) 224-2342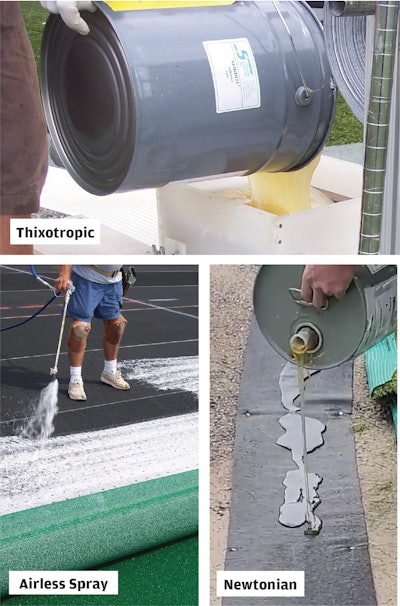 NORDOT® Adhesives can be used year-round in conditions from sub-freezing cold to intense desert heat. All NORDOT® Adhesives are one-part solvent-based moisture-cured urethanes with a 49-year history of dependability. The NORDOT® brand focuses on ease of use, superior high "green strength" (grab), outstanding water-resistance and long-term durability. NORDOT® adhesives can be used on all types of installations and repairs such as professional, school and park athletic fields, waterparks and other indoor/outdoor recreational surfaces.
www.nordot.com | glue@nordot.com | (908) 233-6803