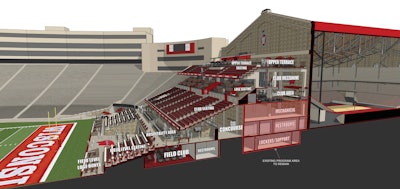 Rendeing courtesy of HOK
"Tired of Bleachers?" asks the subject line of a July 11 University of Wisconsin athletic department email to its football fan base. By then, the answer among a certain subset of ticket-buyers had already been a resounding "Yes!"
As of late July, just over a month before the Badgers were to open their 2022 season with three consecutive home games, the 2,500 fixed-seat availabilities within Camp Randall Stadium's renovated south end zone — offering a variety of premium seating products and no fewer than five distinct club settings — had hit 95 percent of capacity.
Conceived in 2018 and completed in a single off-season through design-build delivery (with a pandemic in between), the $78 million CR Future project represents the first major renovation of the 107-year-old stadium since 2005. The last upgrade, a west-facing wall of suites and club seats soaring up from the stadium's last row of bleachers, is both unmistakable and mysterious — with every seating product behind glass. The new renovation bridges the extremes of packed plank seating out in the elements and sealed-off luxury.
"We had done a survey to take the temperature of our fans: 'From a facility upgrade standpoint, what would you be interested in?' " says Brian Lucas, the UW's director of football brand communications. "And a lot of the feedback involved premium areas that are not indoors behind glass, and that's what this offers. The CR Future project is club seats that are outside, but that have access to indoor areas. You're truly a part of the game environment."
Experiential options
The south end zone brings the best of all worlds to a relatively small footprint, starting from four-and-a-half feet below grade. Behind the field's endline, a dozen four- and six-seat loge boxes each offer beverage refrigeration and TV monitors, as well as access to the indoor Victory Hall, located behind the seats and five steps down from field level. Such access is shared with ticketholders in the 120-seat ledge section, located above the field-level loges and featuring an 18-inch granite countertop in front of each row of rolling office-chair-like seats.
Behind the ledge seats is the Touchdown Club, a beer-garden-like hospitality area unique in that ticketholders anywhere in the stadium can buy one of 350 available season memberships, allowing for the purchase of food and alcoholic and non-alcoholic beverages before and during games.
Above the Touchdown Club is the south end zone's largest section, populated by wider upholstered club seats with enhanced leg room. (Per a July 29 UW marketing email, this was the only inventory that hadn't yet sold out.) Ticketholders here have access — beginning two hours before kickoff — to the climate-controlled, two-story internal Champions Club, which features dedicated restrooms and a 35-yard-long full-service cash bar backed by the exterior sandstone and arched windows of the historic UW Field House. The smaller 1917 Club (a nod to the stadium's debut year) wraps around and looks down into the Champions Club.
Up from the club seats is another array of loge boxes, these partially protected from above by a cantilevered section of terrace seating that looks down on the end zone. Between the last row of terrace seats and the Field House's north facade is an open expanse featuring picnic-style seating, bar-stool viewing options, space heating and bag-toss games on what's being called the Fifth Quarter Patio.
Finally, to the west of this area is a section of 100 molded-plastic chairback seats unlike other terrace seats in that they offer dedicated food and beverage service and restroom facilities, all designed to accommodate corporate outings.
Though the heart of all of this runs an east-west concourse connecting existing stands that once represented opposite ends of Camp Randall's original horseshoe configuration. "We didn't want this project to be entirely exclusive," says Andrew Elmer, stadium design project manager representing HOK, which handled the programming, concept design and schematic design efforts. (JPCullen collaborated, and Green Bay-based Berners Schober, responsible for several past UW athletics projects, including the stadium suites, handled construction administration.) "The concourse connection between the Field House and east and west stands is still going to be there. I guarantee you, people are going to want to walk around and engage with the new project."
There is also a renewed engagement with the near-century-old Field House, the stadium's once formidable visual anchor whose north elevation has been all but obscured by the premium seating striations. The trademark relief "W" seal near the roofline peak is still visible, but architects capitalized on recently renovated windows to allow for Field House look-ins and even walk-ins on football game days — the latter possible through newly punched window entries linking the upper loge level and 1917 Club to what Elmer calls "found space" in the form of an interior Field House balcony overlooking the floor where volleyball and wrestling matches are still held.
Other amenities make the open air of October and November more enjoyable. Both sets of loge boxes are heated, but in different ways. The field-level boxes offer radiant heat from the slab underfoot, while the terrace decking above the higher loges is outfitted with overhead heating units. Every detail was considered, right down to extra-bright TV monitors capable of competing with ambient daylight, if not direct sunlight.
"You need to evaluate a lot of things in these outdoor premium space projects that you don't have to look at with a standard suite, because you're exposed to the elements," Elmer says. "Selecting the right hard surface material for ledge seats or an outdoor loge box that's open-air is really important."
New markets
Though the renovation of the south end zone cost thousands of seats and brings Camp Randall's overall capacity back down below 80,000 for the first time in nearly two decades, revenue generated in this area of the stadium is expected to increase substantially.
According to Lucas, when filled with bleacher seats, the south end zone generated $2.6 million in annual ticket revenue. The new premium spaces — including food and non-alcoholic beverage sales, but not factoring alcohol sales or capital gifts — is projected to generate $6 million.
Market research involved a collaboration between the architects, UW athletics and premium-experience consultant Legends, which also helped sell the south end zone's availabilities. "We didn't want to design something and then figure out how to sell it later," Elmer says. "We used a data-driven design approach. We designed according to what the market was asking for."
In this respect, Camp Randall is hardly an outlier. Sports Business Journal estimates $1.4 billion in college stadium construction will wrap up in 2022, with another $1.87 billion in various stages of construction or development. Diversity is key. Oregon State will open a new west side of its stadium in 2023 with a half-dozen seating options. Texas recently completed an end zone project with seven types of seating (and standing). Wisconsin's Big Ten rival Purdue has gone from three seat offerings to nine. Tennessee has added a field-level sideline club and an upper-deck sports bar.
"If you look at our design and you look at recent designs around the country, we don't use the old model of a suite, where you bring 20 of your closest friends. People want more engagement than that — especially young fans, whether it's recent grads or folks in their mid-30s who are trying to get engaged in a premium experience as an annual donor. We find that the younger fan wants to see and be seen. It's a socializing opportunity, a networking opportunity that is more organic in nature and less, 'Hey, I'm bringing 20 of my friends and we're gonna sit in a suite.' We tried to design for a diverse group of donors."
That said, Elmer calls CR Future the most challenging end zone project he's ever encountered, given how it's boxed in by the end zone itself, the Field House and its mechanicals (untouchable in their location under the old south stands), as well as the stadium's existing east and west stands. Solutions such as sunken club space behind loge boxes and cantilevered terrace decking emerged out of necessity. "We're trying to fit a five-layer cake into a space that probably wanted to fit four layers," he says. "We were constrained really from every axis."
Not that HOK's solutions don't owe a debt to other designs, or couldn't be replicated. Says Elmer, "I've told people, there's a sufficient number of qualified sports architects in the country. We're doing similar project types, and we kind of riff off each other from time to time. You can learn from what others do at other locations and draw inspiration from those. The goal here was to provide outdoor space where the fans could feel the energy of the game. We did that."