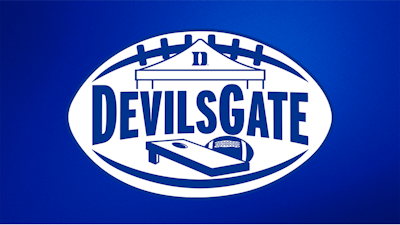 Duke University announced Thursday plans to update its pregame fan experience for football games, including a new destination for fans called DevilsGate.
According to a university press release, festivities at DevilsGate begin three hours before each home game and end 15 minutes before kickoff, two-hour-45-minute window during which fans can enjoy tailgating, music, food and games.
MUSIC AND ENTERTAINMENT: Fans can enjoy a live band or DJ at DevilsGate while tailgating and competing against friends in a variety of interactive games.
FOOD AND BEVERAGE: Each week, DevilsGate features a rotation of local food trucks (cash only, credit cards not accepted). Local BBQ, beer, seltzer and Coca-Cola products are for sale at Club Blue Devil, located on Morton Plaza (credit card only).
COCA-COLA PREGAME SHOW: Beginning 90-minutes prior to kick, former All-ACC Blue Devil Dave Harding and radio sideline reporter John Roth will host the Coca-Cola Pregame Show on Morton Plaza. The pregame show will include conversations with head coach Mike Elko and vice president and director of athletics Nina King, reports from inside the stadium with the voice of the Blue Devils David Shumate, as well as other featured guests and players throughout the season.
BLUE DEVIL TEAM WALK: Fans can join the Duke cheerleaders and marching band in support of the Blue Devils as they walk through DevilsGate on their way to the stadium two hours and 20 minutes before kickoff.
HOSPITALITY TENTS: Whether fans are looking for a tent to tailgate with friends or for a pregame hospitality space for a large group, Duke has plenty of options, including hospitality group packages that include prime hospitality space with tables and chairs, set up and breakdown of the space, pregame catered buffets, and a block of game tickets.
STUDENT TAILGATE TENTS: Whether with one friend or a large group, all students are welcome to come and enjoy the student tailgate tents. If students wish to have a reserved space, they can reserve a free tailgate tent within the DevilsGate footprint. This is a great opportunity for student organizations or just a group of friends to have a "home base" within the student tailgate area.
JUNIOR BLUE DEVIL SKILLS CHALLENGE: Fans can head to the practice fields behind the main scoreboard to enjoy a football skills challenge, inflatable games, bounce house and obstacle course, as well as music. This area opens 90-minutes prior to kick and closes at kickoff.