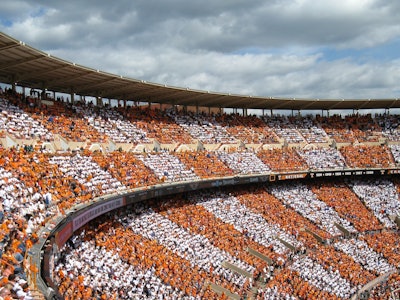 The University of Tennessee has completed its $288 million renovation of Neyland Stadium, which began immediately after the 2021 season ended.
The project involved adding some visual elements, a new video board, a party deck, and a standing-room-only areas. Luxury seats have been added to the home side of the stadium, and Wi-Fi coverage was expanded with the stadium. Concourse hallways were added, as well as additional restrooms and a club space underneath the west side of the stadium.
Neyland will still remain at a capacity of over 100,000. The University says the new official capacity will be 101,915, coming down from 102,455.
Tennessee fans can see the new look up close and personal on Thursday night, as the Volunteers host Ball State to open the 2022 season.