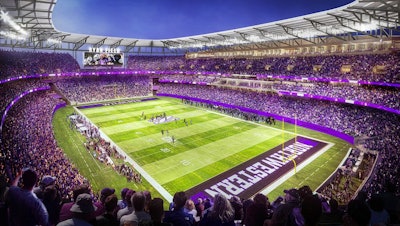 Northwestern University's Ryan Field opened as Dyche Stadium in 1926, and it's on the 100th anniversary of that opening that the school intends to begin playing football in a new venue.
NU unveiled official renderings of the stadium Wednesday and announced details about the project in a news release.
VenuesNow.com reported in February that HNTB, which has upgraded half of the Big Ten Conference's football venues over the past 20 years, had begun working on designs of the new Ryan Field, which is estimated to cost $800 million and reduce capacity by 12,000..
A $480 million donation from the Patrick Ryan family started momentum for a new field, and all of the $800 million cost for the new stadium will come from private donors rather than funding from the city of Evanston. The university is billing the project as "an accessible, sustainable, year-round community asset."
The website rebuildryanfield.com further boasts the new stadium's impact in the form of more than $10 million in direct fees to Evanston, more than $600 million in indirect economic impact, and the creation of 29,000 jobs during the rebuild.
Among the benefits of the LEED Gold-targeted rebuild are reduced vehicular congestion thanks to bike valets, ride share plans and public transit opportunities; reduction of neighborhood noise and light spill thanks to a state-of-the-art canopy design; and new plazas and green space to encourage tailgating.
The current stadium opened with a capacity of 25,000 and peaked at 55,000, but holds 47,130 in 2022. Its replacement is will hold roughly 35,000. According to a video at rebuildryanfield.com, the venue will also serve women's lacrosse.
NU is planning to host football at Ryan Field through the 2023 season. The athletic department has yet to commit to a location for home games in 2024 and 2025, though the Chicago Bears' Soldier Field and the Cubs' Wrigley Field are possibilities. The Wildcats played Purdue in 2021 at Wrigley Field, and their 2020 meeting there with Wisconsin was canceled due to the COVID-19 pandemic.
While the current Ryan Field is strictly for the football program, with the occasional graduation ceremony in the mix, the new stadium will hold the potential for hosting concerts, which will help offset maintenance costs. NU has not committed to a specific number of concerts per year.