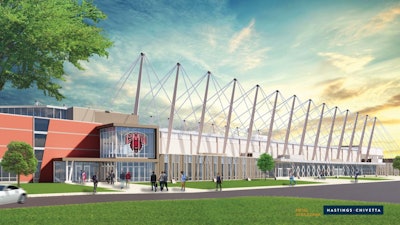 In Ellensburg, Wash., enrollment at Central Washington University has grown in recent years, and the university said it has several projects planned to expand its north campus to meet is growing student body. The projects will allow CWU to better serve students, staff and faculty, including creating the $6 million Wildcat Commons, which will refreshing Tomlinson Stadium, which has not been renovated or updated since it opened in 1959.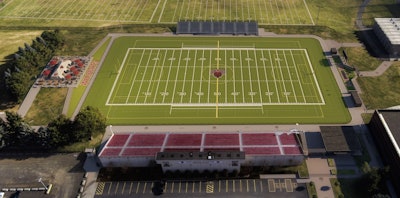 The project will install artificial turf, regulation-size field for football, rugby and soccer, LED stadium lighting, construction of Wildcat Plaza (South End Zone), construction of Alumni Plaza (North End Zone), renovated restrooms, new entry gates and new box office/ticketing.
There will also be a recreational expansion at CWU. The university will construct a new, multipurpose field that will accommodate intramural sports, sport clubs, and CWU track and field programs.
The university is also increasing university housing and dining facilities. — Central Washington University
---
Iron District Milwaukee announced an agreement with the USL Championship league to establish a professional men's soccer club in downtown Milwaukee.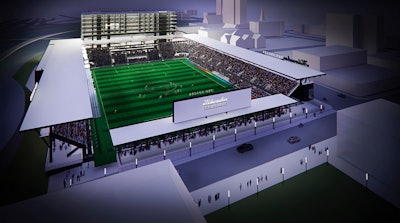 The USL expansion team will play games at the Kahler Slater-designed 8,000-seat stadium, which is the anchor of the mixed-use destination.
The announcement of the team marks the establishment of the first professional outdoor soccer franchise in Milwaukee since 2002. In addition to the Milwaukee Pro Soccer USL Championship franchise, the Iron District stadium will be home to Marquette University's men's and women's soccer teams and men's and women's lacrosse teams.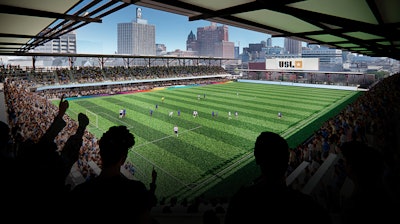 The mixed-use development also includes a 3,500-seat indoor concert venue, a 140-unit residential component, boutique hotel, and dining, nightlife and retail operations. Kahler Slater serves as lead design and architecture partner for the project. Partners for the development include Kacmarcik Enterprises, Bear Development, Marquette Companies, Pabst Theater Group and the City of Milwaukee. The sports and entertainment district expects to create hundreds of new jobs in the community and draw a million visitors annually.
"As lead designer, we are excited to partner with visionary clients like Bear and Kacmarcik as they create a new hub for sports and entertainment in Milwaukee." said Joseph Sinnett, AIA, Kahler Slater principal-in-charge. — Kahler Slater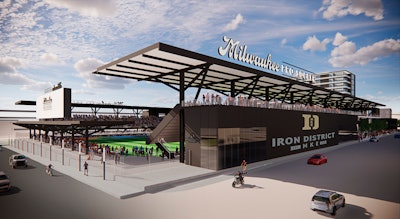 ---
Betty Kohn Fieldhouse at Martin Luther College in New Ulm, Minn., hosted a special ribbon cutting Thursday with the Willkommen Committee of the New Ulm Area Chamber of Commerce.
The fieldhouse has long been a dream of MLC, and the construction of the building was completed earlier this year. Students have been using the facility since February.
Dave Biedenbender, MLC interim athletic director, said the facility serves as practice space during inclement weather. The building can also be used for intramural sports, physical education classes.
There is potential to open the facility for community use once the college has determined hours of operation. — Nujournal.com