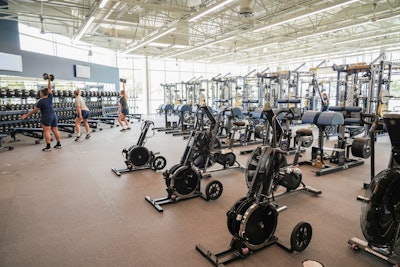 Via UC Davis Aggies
The Edwards Family Athletics Center — a new hub for Aggie student-athletes at the University of California Davis — opened in September.
The Edwards Family Athletics Center is a comprehensive academic, strength and conditioning, sports medicine, and team facility. The two-story, 50,000-square-foot-plus project was designed by Gensler and built by AECOM Hunt. As the exclusive provider of health care services to student-athletes, UC Davis Health will also serve students, faculty, staff and the Davis community from within the building's footprint with a new out-patient sports medicine clinic.
The building sits adjacent to UC Davis Health Stadium.
The Paul and Nancy Sallaberry Sports Performance Center is the biggest space within the new facility, providing a greater number of student-athletes and teams with the ability to work out at more convenient times.
Compared to the current weight room located at Toomey Field, the new training area is nearly four times larger in size.
In addition to team meeting rooms that will provide ample areas for teams to study and prepare for games, the Bruce and Marie West Auditorium will seat 140 individuals and is available for student-athletes, coaches and UC Davis students to organize large gatherings.
The Edwards Family Athletics Center features technology throughout the entire building that allows coaches to use these meeting rooms, or the auditorium, as a second office. — The Aggie
---
Cal Poly-San Luis Obispo's football program has unveiled plans for the $30 million, 30,000-square-foot John Madden Football Center, named after its most famous alumnus who went on to become a Pro Football Hall of Fame coach with the Raiders and an Emmy Award-winning broadcaster.
Before passing away last December at age 85, John Madden worked extensively with Cal Poly President Jeff Armstrong and football coach Beau Baldwin to sketch out the new team headquarters, that will be built beyond the south end zone at Alex G. Spanos Stadium.
"We are certain the John Madden Football Center will be a transformative facility that elevates every aspect of Mustang football," Mike Madden said in a statement. "It will be a centralized home for the entire football community — a state-of-the-art facility for current and future Mustangs, designed to develop their physical and mental skills and provide a place to gather with teammates to study or relax. Further, it will afford coaches regular interaction with current Mustangs, while also being an attraction to help recruit the best future players."
It will include a locker room, strength and conditioning facilities, a nutrition center, a lounge, offices, training rooms, a hall of champions, and a team-meeting theater that can seat 125 players.
While the Madden family led the donation effort for the center, Cal Poly is still seeking to raise an additional $6 million. — Chico Enterprise-Record
---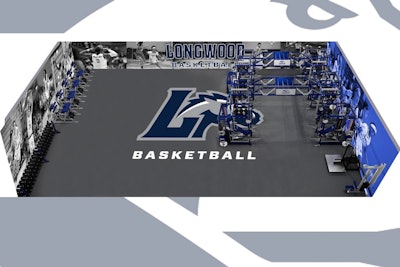 Longwood University Athletics in Farmville, Va., has opened its new Basketball Performance Center.
The elite, donor-funded facility is one of the largest basketball-specific training facilities in the country.
The opening of the Basketball Performance Center represents another key milestone for Longwood Basketball in its climb to produce nationally relevant mid-major programs.
The center provides the programs with a key facility to significantly upgrade the development program offered to student-athletes, but also serves as a major recruiting tool to attract high-quality recruits with an elite training facility that few other mid-major programs possess.
Inside, it has 4,500 square feet of training space and will be used exclusively by the men's and women's basketball programs. It boasts state-of-the-art equipment and cutting-edge technology to enhance student-athlete performance.