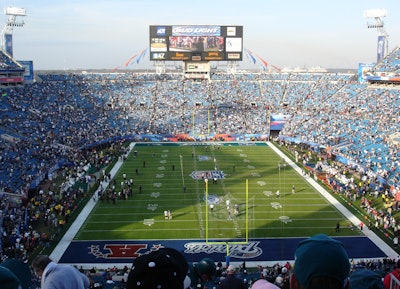 By CTLiotta - Own work, CC0, https://commons.wikimedia.org/w/index.php?curid=29609710
Jacksonville, Fla., officials have condemned antisemitic messages that appeared to be projected onto the side of TIAA Bank Field, the home of the Jacksonville Jaguars.
According to CNN, the words "Kanye is right about the jews" were projected on to the side of the stadium during the Georgia-Florida game on Saturday.
The words likely reference recent antisemitic comments made by rapper Ye, formerly known as Kanye West.
CNN reported that it's unclear how the messages were projected onto the stadium.
Similar messages were also seen on at least one building in Jacksonville, and banners with antisemitic messages were hung from a highway overpass. The banners read "End Jewish Supremacy in America" and "Honk if you know it's the Jews."
Jennifer Plotkin, the board president of the Jewish Federation and Foundation in Northeast Florida, told CNN that she was "disheartened" by the antisemitic rhetoric.
"We are very thankful for the numerous leaders and community members who have expressed their disgust and condemnation of these acts as well and going forward we will be using our anger and disappointment that these things are happening here, to build alliances within our community and to ensure that our Jewish community is protected," Plotkin added.
The University of Georgia and University of Florida jointly issued a statement condemning the messages.
"We strongly condemn the antisemitic hate speech projected outside TIAA Bank Field in Jacksonville after the Florida-Georgia football game Saturday night and the other antisemitic messages that have appeared in Jacksonville.
"The University of Florida and the University of Georgia together denounce these and all acts of antisemitism and other forms of hatred and intolerance. We are proud to be home to strong and thriving Jewish communities at UGA and UF, and we stand together against hate," the statement said.