A few months ago, University of St. Thomas walked away from its exploration of a new hockey rink at the Highland Bridge development, a few miles south of their main campus. Since then, there have been mixed messages regarding the future home of Tommies hockey.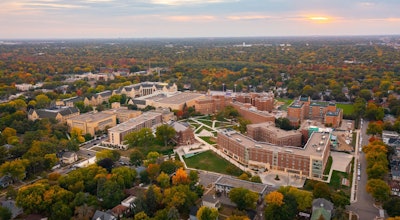 This week, the message was unified with an announcement that was expected: the Tommies will be coming back to St. Thomas campus.
In a letter sent to students and alumni, St. Thomas athletic director Phil Esten confirmed that they expect to find a spot within the school's South Campus to build a home rink for the men's and women's hockey programs.
"We're excited, really excited to think about what this could mean for our campus community," Tommies athletic director Phil Esten told The Rink Live in a phone interview from State College, Pennsylvania, where he had watched Penn State defeat the Tommies men's team on Thursday evening. "It will be great for our two hockey programs, but also serve as an important student life center. You think about all the things we can do with a multi-purpose venue … whether it's job fairs, commencement, convocation and other student activities, and it could really be a hub of activity."
Esten's letter did not spell out a specific site, a capacity for the rink, a pricetag or a timeline of when it would open, but he said all of those conversations are currently taking place.
The next steps are to identify the partner who will design and build the facility and to raise money to fund the project. — Therinklive.com
---
The Dubuque Ice Arena in Dubuque, Iowa, has reopened following a five-month closure for renovations.
The city of Dubuque spent $6 million dollars on renovations, which included a reinforcement of the foundation.
Alex Dixon, president and CEO of Q Casino, which now manages the Ice Arena, said the building was built on a landfill and "settling" led to significant structural issues.
"We are literally on an island in the middle of the Mississippi River. And so there's settling that is taking place on the island," said Dixon. "And so when we built the building, there was some particular settling that was going on in the middle where the ice was. And so we had reinforced that, and it gave us an opportunity to make some upgrades to the interior, some cosmetic upgrades throughout the building."
Q Casino took over management of the arena from the city. Robert Miller, President of Business Operations with the Dubuque Fighting Saints, said management has changed hands a few times now.
Dixon said he hoped the renovated facility would not just be used for hockey but would be a true community space.
"You can hold events, you're going to birthday parties, graduations, concerts," said Dixon. This project is only the beginning. Miller said future phases of renovations are planned.
The building shut down for renovations in June, which meant teams that used the facility had to practice someplace else.
"Our team has been on the road, we've been going to Madison, Wisconsin every day to practice at our rivals building in Madison," said Miller. "To be able to get, you know, get back in here, get back in your locker room, get back in your locker space to call your own. It's such a big deal for their psyche to be able to play." — KCRG.com
---
Liberty Christian Academy in Lynchburg, Va., held a groundbreaking ceremony for its new stadium Nov. 3.
The new arena will fit more than 4,000 fans as well as add a new track around the perimeter of the field.
"You drive on our campus, there is nothing to look at. There's no cornerstone of our school campus. In eight months, we will have that, and it will be something we can all be proud of," says Frank Rocco, Coach and Athletic Director for Liberty Christian Academy.
In addition to the track, the facility boasts a turf field, locker rooms for home and away teams, concession stands and a band practice field.
The new stadium is expected to be open by fall 2023.