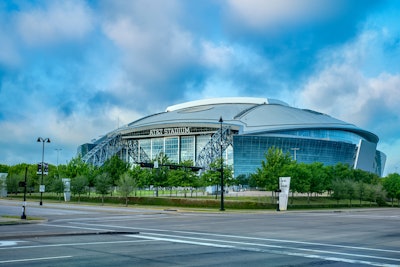 The Dallas Cowboys are reportedly planning a $295 million upgrade of AT&T Stadium ahead of the 2026 FIFA World Cup.
According to Sports Business Journal, the upgrades are not meant to dramatically change the look of the 100,000-seat venue. Rather the Cowboys will to refresh premium spaces, upgrade technology and other back-of-house services.
The Cowboys will reportedly seek help in paying for the project by asking the rest of the league for approval to withhold shared gate revenue. SBJ reports that the total price tag for the work may match the $295 million "visiting team share" waiver request, and the team is also seeking a waiver to the NFL's usual $600 million team debt limit.
Owners are expected to vote on both measures at next week's league meeting in Irving, Texas.