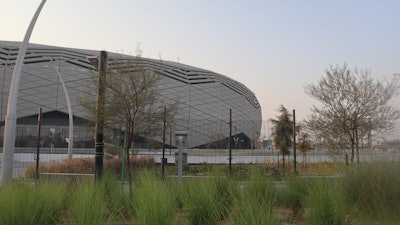 Hatem Boukhit/Unsplash
The stadiums that cost billions of dollars (and an unknown number of workers' lives) to build in Qatar for the 2022 FIFA World Cup will be repurposed, and some will be removed.
Eight stadiums were built in and around the country's capital of Doha, costing about $6.5 billion, according to a Yahoo Sports report.
Questions about the fate of facilities that are specially built for major worldwide sporting events are common. Sometimes — like after the 2016 Olympics in Rio de Janeiro — stadiums are completely abandoned.
For a small country like Qatar — about the size of Connecticut — it's not immediately clear what type of use the facilities might offer after their intended purpose.
Qatar has a plan to get more use out of its venues than just a single World Cup. Qatar will host the 2023 Asian Football Cup, which was relocated from China due to COVID-19. Qatar will also hold the Asian Games, an event similar to the Olympics, in 2030. Those will give stadiums second and third lives, at the very least, though venues will have capacities reduced and will be modified.
RELATED: Qatari Official Puts World Cup Deaths 'Between 400 and 500'
RELATED: Report: Labor Rights Violations Rampant During World Cup Stadium Construction
Qatar is also putting together a bid to host the 2036 Olympics.
The domestic soccer league in Qatar will start playing matches in venues that were built for the World Cup, though they don't draw nearly the crowds that were seen at the event, Yahoo Sports reported. Another, Education City Stadium, will serve students and faculty from local universities and schools.
Some will be converted into other things, according to Time. Al Thumama Stadium will still host events, but will have a hotel, a sports clinic and more added to it.
Al Bayat Stadium is going to be turned into a five-star hotel, shopping center, sports medicine hospital and more.
Lusail Stadium, which hosted 10 World Cup matches including a semifinal and the final, will be turned into a mixed residential and commercial center.
Stadium 974 will disappear completely, too. That stadium was built out of 974 recycled shipping containers in one of the most unique and eco-friendly venues in the world. The containers, per the report, will be shipped elsewhere and a waterfront business district will take its place.
Only Khalifa International Stadium will remain in its current form.
An unknown number of migrant workers died while constructing the stadiums.