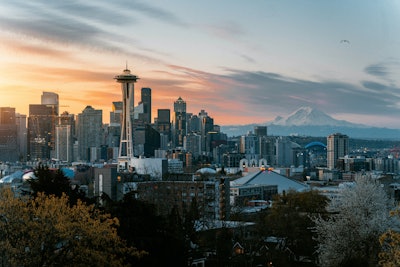 Seattle's Climate Pledge Arena announced Friday that fans will now receive a public transit pass alongside their ticket for every publicly ticketed event at the venue.
"In our first year we've seen 25 percent of fans at Kraken and Storm games take public transit. It's been one of the fastest and most fun ways for our fans to get to the arena. We're excited to expand this benefit to all fans for all events at Climate Pledge Arena," said Rob Johnson, senior vice president of Sustainability for Climate Pledge Arena and the Seattle Kraken. "Taking transit is great for the environment, helps reduce traffic congestion in our neighborhood, and gets fans from all walks of life together to celebrate sports and live entertainment. As light rail continues to expand throughout our region, we look forward to seeing even more fans use transit to get them to the arena."
Fans can access their the public transit passes in the Seattle Kraken app after linking to their Ticketmaster account. Fans will have transit passes equal to the number of tickets they have for that event in their account. The transit passes are valid up to 2 hours before doors open and 2 hours after the event concludes.
Climate Pledge Arena's public transit benefit currently applies to 6 different forms of transit in the Puget Sound region, King County Metro Bus and Water Taxi, Sound Transit Bus and Lightrail, and the Seattle Streetcar and Monorail.
"Climate Pledge Arena is one of the only arenas in the world to offer this kind of benefit to our fans," said Steve Mattson General Manager of Climate Pledge Arena. "We've heard from thousands of Kraken and Storm fans about how much they loved the free transit pass to games, and we're thrilled to extend this benefit to anyone attending our upcoming public events."