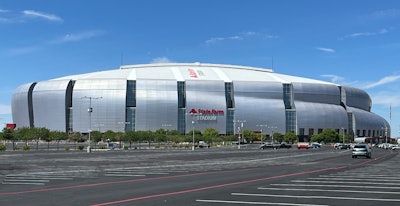 As State Farm Stadium preps to host next month's Super Bowl, facility operators are tasked with fixing numerous fire code violations at the Glendale, Ariz., venue.
An ABC15 investigation in September looked at 190 inspections of the stadium over a five-year period. The investigation found the State Farm failed 87 inspections, amounting to a 46 percent failure rate. Some of the inspections saw 20 or more violations, even though just one violation can result in a failure.
In September, stadium manager Andy Gorchov told ABC15 that the problems would be fixed in a more timely manner and expressed hope that future inspections would see improved scores.
That doesn't appear to be the case given that ABC15 obtained state fire inspections for August through December 2022, which found that State Farm Stadium failed 19 of 27 inspections, a 70 percent failure rate that is higher than the five-year average. Nevertheless, the new investigation found that many of the violations were fixed either on the spot or within days of the visit.
"Before we really wasn't [sic] closing the loop on that," said state Fire Marshal Cassie Peters. "When we see a decline in violations, there's something we all applaud because that's what we're after."
This fall State Farm hired its own fire/life safety specialist who works with state fire inspectors during all stadium events to oversee the process from the stadium's side.
According to ABC15, violations in the most recent stack of inspections included "obstructed doors and emergency exit pathways that blocked access to electrical panels and non-compliant fire suppression systems."
"They're minor in nature," Peters said. "If it's something significant, then we address it. We're not going to walk away from that."
Perhaps the most critical violations involved the stadium's alarm system, which was tagged as non-compliant, with inspectors noting the red tags for more than a year.
Stadium managers declined an interview about the latest batch of inspection reports, but a spokesperson issued the following statement:
Safety is the No. 1 priority at State Farm Stadium. The stadium's fire safety systems are fully operational. In partnership with local public safety and law enforcement agencies, the stadium's comprehensive fire safety inspection program ensures an ongoing risk assessment process to identify any potential safety issues and to ensure that they are addressed in a timely manner. There will be a significant fire safety presence on-site at the Super Bowl, as there is for every football game and other major stadium events to ensure a safe environment for all in attendance.
Glendale issued this statement Monday:
Our Fire Prevention Team will bring the same level of expertise, diligence, and safety to game day, just as we do every day with every event in the City of Glendale. Keeping the citizens, visitors, and the vendors safe is our top priority. For us, game day is no different than any other day. Our Fire Prevention team will perform inspections and be onsite to ensure the highest level of service and safety.