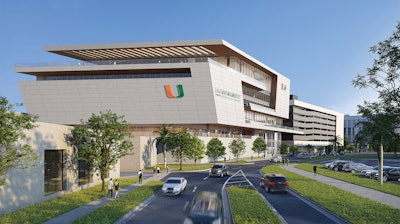 Rendering courtesy of HOK
Grand Openings
The University of Miami and Miami Athletics shared plans to build a new on-campus football operations center. Designed by HOK and Arquitectonica, the seven-story, 172,000-square-foot complex will provide the best amenities in sports medicine, strength and conditioning, nutrition, sports psychology and personal branding services. The seventh floor will include a 7,500-square-foot rooftop terrace with views of campus and Miami's skyline, as well as a digital media lab, an NIL suite, a golf simulation area and a multipurpose gymnasium. Other highlights include athletic training and medical facilities, an equipment room, a nutrition center and dining hall, and a state-of-the-art recovery spa with hydrotherapy, saltwater float tanks, red light therapy, a meditation room and a relaxation lounge.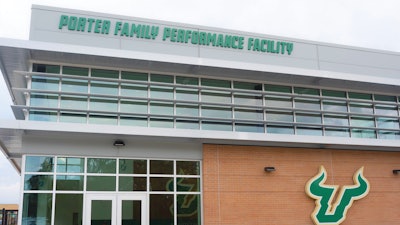 The Porter Family Indoor Performance Facility officially opened at the University of South Florida in January. The 88,000-square-foot facility features a 100-yard turf field, an observation deck, a reception lobby, an outdoor plaza, scoreboards, a video work area, restrooms and a locker room for officials. More than 500 donors chipped in to fund the $22 million project. USF also has an on-campus stadium in the works to be built just north of the new indoor facility.
First Pitch
Lincoln University in Jefferson City, Mo., is planning to renovate its Golf Center. The athletic department announced a partnership with a St. Louis-based philanthropic group, the KWAME Foundation, to install two interactive golf simulators, improved flooring and lockers, as well as other equipment for LU golfers. The university did not reveal the value of the foundation's gift.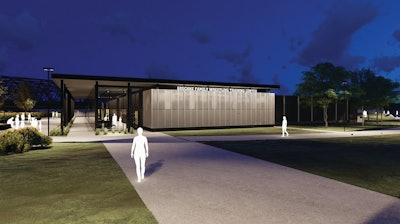 The University of Iowa athletic department announced multiple projects to benefit several sports programs. Construction on a new training center for the gymnastics and dance teams is expected to begin in fall 2023, pending Board of Regents approval. The proposed facility will include training spaces, locker rooms, a team room, a multipurpose room and other amenities.
Construction of the Goschke Family Wrestling Training Center is underway adjacent to Carver-Hawkeye Arena. The project began in June 2022 and is expected to be completed in spring 2024. The 38,500-square-foot facility for the men's and women's wrestling teams includes a wrestling room, a strength training area, team locker rooms and athletic training facilities. Arena enhancements to concessions, restrooms and premium seating are also planned to modernize the nearly 40-year-old Carver-Hawkeye Arena, home of Iowa basketball.
Breaking Ground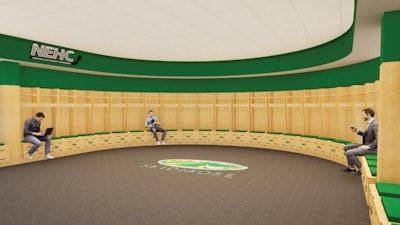 Work is underway on the 3,200-square-foot addition to the Saratoga Springs (N.Y.) City Hockey Rink that will house key operational space for the Skidmore College ice hockey team. The expansion is a result of a partnership between Skidmore College and the City of Saratoga Springs that allows the college to build a new hockey locker room while enabling the city to make a number of other planned improvements to its ice rink facilities. Located behind the home bench, the expansion will include a locker room, a changing room, a training room, coaches' offices, an equipment room and laundry, showers, bathrooms and a skate-sharpeing area. Other planned improvements may include upgrades to lobbies at two additional rinks, as well as other projects to be determined by the city in consultation with Skidmore.
Clemson University held a formal groundbreaking ceremony this winter to start work on the $37.5 million expansion plan for new and upgraded lakefront facilities for lacrosse, gymnastics and rowing. In June 2021, Clemson announced the addition of women's lacrosse and women's gymnastics, which will begin competition in the 2022-23 and 2023-24 academic years, respectively. The new project will overlook Lake Hartwell, adjacent to the current rowing facility. The lacrosse development features a new stadium, including bleacher seating and synthetic turf, as well as a 9,000-square-foot operations complex, including coaches' offices, locker rooms, a player lounge and other amenities. The gymnastics team will call a new 21,000-square-foot facility home for practice and day-to-day operations. The gymnastics complex will include a gym, a locker room, a lounge, a training room and offices.