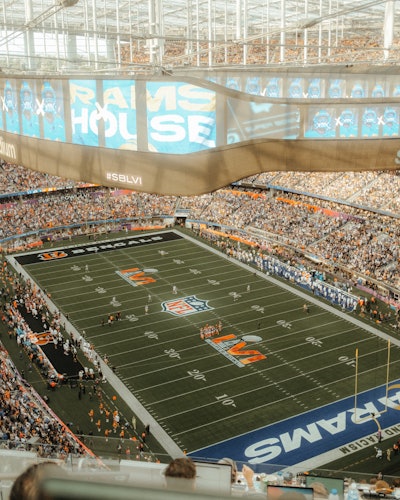 SoFi Stadium needs to find another 10,000 seats before 2026 or the World Cup may not stop in Los Angeles.
According to Sports Illustrated, citing a report in The Sunday Times in the United Kingdom, L.A.'s SoFi Stadium scheduled to host matches in 2026, when North America stages the World Cup, but the home of the NFL's Rams and Chargers may not be able to because it doesn't meet FIFA requirements for pitch width and seating capacity.
According to The Times report, the field is too narrow, and widening it would remove seats that would drop its capacity even further below FIFA's minimum requirement of 80,000 seats. During the NFL season, SoFi Stadium has a 70,240 person seating capacity, so it needs to find another 10,000 seats before 2026.
If FIFA has to move the World Cup final away from Los Angeles, AT&T Stadium in Dallas and MetLife Stadium in New Jersey are prime candidates. Both of those stadiums already fit at least 80,000 people during football season.
As reported by SI, the 2026 World Cup will be split between the United States, Canada and Mexico as the tournament expands to 48 teams for the first time. While Mexico and Canada will combine to host games at five stadiums, the majority of games will be played in the United States, including every game from the quarterfinals on.