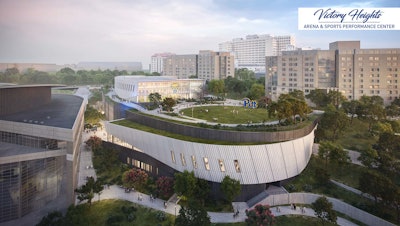 Courtesy of U. of Pittsburgh Department of Athletics
University of Pittsburgh officials this week provided the City of Pittsburgh with its detailed plans for the $240 million Victory Heights Arena and Sports Performance Center.
The plans for the 250,000-square-foot Victory Heights Arena were provided to city officials on Tuesday, which included information on the 3,000-seat arena. The athletic performance center would serve 16 of the university's 19 athletic programs and have space for wellness and sports medicine facilities, said Chuck Alcorn, a planner with the university, as reported by TribLIVE.com.
The arena would become home to the school's volleyball, wrestling and women's gymnastics teams, which play at the 70-year-old Fitzgerald Field House.
Related: Nine-Story Recreation Center Coming to the University of Pittsburgh Campus in 2024
Related: Pitt Breaks Ground on New Rec & Wellness Center
Officials said the proposed Victory Heights facility would be located near Petersen Events Center on Terrace Street, on the site of the former Pitt Stadium, which was torn down in 1999.
The building also would feature an open community space on the roof. Plans call for large trees to provide shade, seating and an open lawn where people would have a view of the lower portion of Pitt's campus and beyond.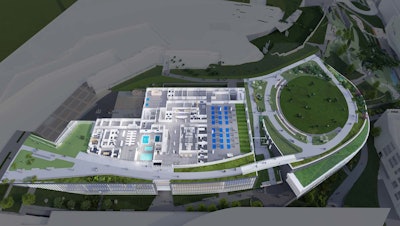 The project "considers the outside spaces as much as it considers the inside spaces," Pittsburgh planning commission chair Christine Mondor said, TribLIVE.com reported.
The facility earned approval from Pitt's Property and Facilities Committee in November. At that time, university officials said the new facility would cost about $240 million.
The Planning Commission is expected to vote on the university's proposal at its next meeting in two weeks.
According to the Pitt Athletics website, groundbreaking for the arena would be expected to take place in winter 2023.
This comes after the commission in November approved Pitt's plans for a $255 million, nine-story campus recreation center.
It will house gymnasiums, squash courts, a swimming pool, spa, game room, locker rooms, racquetball courts and areas dedicated to fitness, food service and wellness.