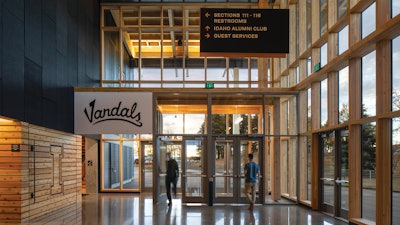 Photo by Sam Fentress Photography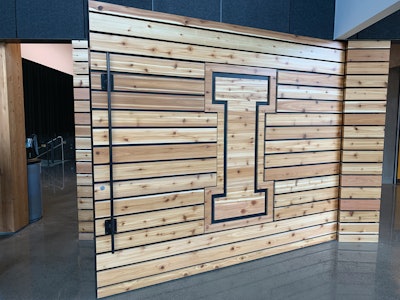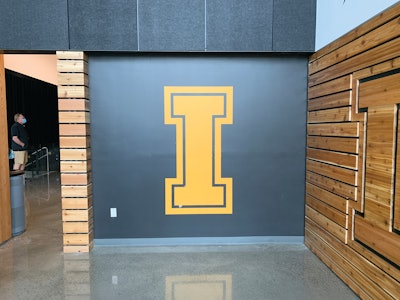 Rare is the arena built today without hospitality and meeting amenities accessible on more dates than game days, but cordoning off the arena to allow off-day access to just the ancillary spaces can be an architectural challenge.
Designers at Opsis and Hastings+Chivetta combined to create an elegant solution for Idaho Central Credit Union Arena, which allows most doors at its main entrance to be locked while another, segregated door doubling as ground-level entry to an upper-level alumni room remains unlocked. Just beyond that door is an 8-by-10-foot decorative gate that swings open 90 degrees from a concourse wall to cut off entry to the arena concourse itself.
The 4.5-inch-thick, wood-faced gate is bolt-locked in its temporary position parallel to the entry doors, so visitors seeking the alumni room and its views of campus and the arena floor are left with only one wayfinding option upon entering the arena: to turn right toward a staircase and an elevator. For game days, the gate — which boldly features the University of Idaho block "I" on both sides — returns to its key-locked closed position flush within the concourse wall, and all exterior doors again allow for full arena access.
Though it took some extra engineering (and 23 pages of construction documents), the gate represents a more aesthetically pleasing alternative to traditional folding-metal hallway barriers.
"How do you secure one part of the building from the rest of the arena? Most of the time you do that it looks ugly," says Hastings+Chivetta principal Erik Kocher, who laid out the 20-month-old home of Vandals basketball and volleyball. "The idea of this gate was to not have an ugly looking thing right at the front door. We were trying to class it up."