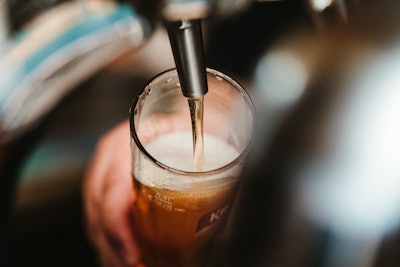 File Photo/Unsplash
Lawmakers in Michigan are proposing that the state relax rules around alcohol sales at college sporting venues to better match venues at other Big Ten schools that do allow alcohol to be sold.
The bipartisan group of legislators introduced Tuesday bills that would have the Michigan Liquor Control Commission issue up to three licenses to be used for events within the public areas of university football, basketball and hockey stadiums, the Detroit News reported.
Under a tavern license and a Class C liquor license, an educational facility can sell retail beer, wine and mixed spirit drink products on the public premises. The sales under these licenses can be permitted one hour before each game, WDIV-TV reported.
Eight of the 14 schools in the Big Ten allow alcohol sales at football games, lawmakers said. But current Michigan policy prohibits the University of Michigan and Michigan State University to widely sell beer at their events.
"There is no good reason for this option to be available only for people watching the games in suites and no one else," Sen. Sean McCann, D-Kalamazoo, said, as reported by the Detroit News. "Furthermore, there is strong evidence that points to these policies helping to reduce binge drinking on game days."
Last year, Alan Haller, MSU's athletic director, told the Detroit News he was interested in allowing alcohol sales at Spartan Stadium.
At Michigan Stadium, there is some precedent for alcohol sales. In 2012, then-Gov. Rick Snyder signed a law temporarily allowing alcohol sales at the Big House on New Year's Day 2013 for a National Hockey League Winter Classic game between the Detroit Red Wings and the Toronto Maple Leafs, the Detroit News reported.
During the 2021-2022 legislative session, state Rep. Graham Filler, R-Clinton County, and then-Sen. Curtis Hertel, D-East Lansing, championed the plan to allow alcohol sales at university stadiums in Michigan. The House and Senate didn't take up their bills for votes.
At the time, Becky Iannotta, a spokeswoman for Mothers Against Drunk Driving, said the organization opposed legislative efforts like the one to allow more consumption of alcohol on college campuses.
House and Senate leadership have referred the new bills to the regulatory affairs committees.
"Giving universities the option to serve alcohol at their sporting events is about freedom, fairness and recognizing that the responsible consumption of alcohol inside the stadium is much safer than the binge drinking that goes on in the parking lot," Filler said in the announcement Tuesday.
Under the new bills, the licenses could be used up to 50 days per year within an indoor basketball arena, up to 25 days per year at the indoor hockey arena and up to 10 days per year at the outdoor football stadium.