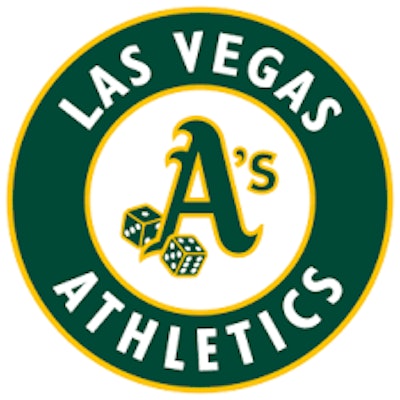 The Oakland A's and Bally's Corp. have reached an agreement for the team to build a $1.5 billion stadium on a portion of the Tropicana Las Vegas site, a move expected to reduce the amount of public financing sought for the project by more than $100 million.
Sources with knowledge of the negotiations told The Nevada Independent on Tuesday that under the scope of the deal, Bally's plans to demolish the Tropicana resort hotel and allow the A's to construct a 35,000-seat retractable-roof stadium on nine of the site's 34 acres site near the southern end of the Las Vegas Strip.
According to Howard Stutz of the Independent, the A's were initially looking to secure legislative support for $500 million in public funding, involving tax credits and the creation of a special taxation district to help fund stadium construction. The team announced last month that it had reached a "binding agreement" with Red Rock Resorts regarding a stadium site on 49 acres west of Interstate 15, but recently opted to explore alternatives.
Related: Oakland A's Make Las Vegas Land Deal for Future Retractable-Roof Stadium
The new site at the Tropicana is projected to require $395 million in public financing. Stutz reported that because real estate investment trust Gaming and Leisure Properties owns the land that is leased to Bally's, the A's would no longer have to pay land-acquisition costs. Bally's pays Gaming and Leisure annual rent of $10.5 million under a 50-year lease agreement.
"This is now the deal," a source familiar with the negotiations told the Independent in regard to the team dropping the focus on the Red Rock land. "This is what we're working on."
The A's had planned to build an entertainment district around the stadium with restaurants, retail and other entertainment offerings, but that is no longer part of the project, Stutz reported, but sources indicated that Bally's would build a new 1,500-room hotel-casino across from the stadium once completed. The hotel-casino would be separate from the ballpark.
No legislation seeking public financing approval has been introduced with 28 days remaining in the state's 120-day legislative session, and Democratic legislative leaders said last week that they are awaiting solid details from the team and would likely need them by this week.