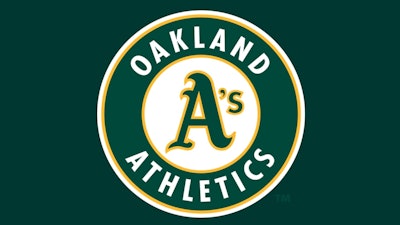 Major League Baseball's Oakland Athletics on Monday announced an agreement to purchase land for a new stadium on the Las Vegas Strip, and Bay Area fans were less than enthused with the news.
After announcing that the team had reached an agreement with Bally's and Gaming & Leisure Properties to build a potential stadium on the Tropicana hotel site along the Las Vegas Strip, the A's drew a paltry crowd of just 2,064 fans to Monday night's contest against the Arizona Diamondbacks.
Related: A's Find New Site Along Vegas Strip to Build $1.5B Stadium
Related: Oakland A's Make Las Vegas Land Deal for Future Retractable-Roof Stadium
Bally's Corp. announced Monday that it had agreed to a deal for the A's to build a 30,000-seat stadium on the 35-acre site. The project is expected to cost about $1.5 billion, with the A's asking for nearly $400 million in public support from the Nevada Legislature, which could vote on the proposal as early as this week.
The A's had previously signed an agreement to build a stadium on the other side of Interstate 15. For that project, they were expected to ask the legislature for $500 million in public funds.
"We are excited about the potential to bring Major League Baseball to this iconic location," A's president Dave Kaval said in a statement, according to the Associated Press. "We are thrilled to work alongside Bally's and GLPI, and look forward to finalizing plans to bring the Athletics to Southern Nevada."
Kaval hopes to break ground on the new ballpark next year, with a potential opening in time for the 2027 season.
"We are honored to have been selected to partner with the Oakland Athletics on this monumental step in helping to bring Major League Baseball to the great city of Las Vegas, and to be a part of the once-in-a-generation opportunity of having a professional baseball team located within a short walk of the Las Vegas Strip," Bally's President George Papanier said in a statement. "The Tropicana has been a landmark of Las Vegas for generations, and this development will enhance this iconic site for generations to come."
---