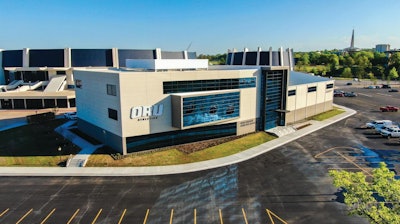 Photo courtesy of ORU Athletics
Grand Openings
In mid-April, Oral Roberts University officials cut the ribbon on the school's $15 million Mike Carter Athletic Center. At approximately 50,000 square feet, the MCAC houses basketball practice courts, administrative and coaches' offices, as well as a 10,000-square-foot indoor sports performance area. The three-story athletic center features two NCAA-regulation courts for men's and women's basketball, and a stadium-style meeting room. The facility is named in honor of ORU athletic director emeritus Mike Carter, who now serves as the university's vice president of development and alumni relations. The athletic center is also home to the Education, Learning, Integrity (ELI) Academic Center, which includes individual and group study areas and dedicated team rooms.
First Pitch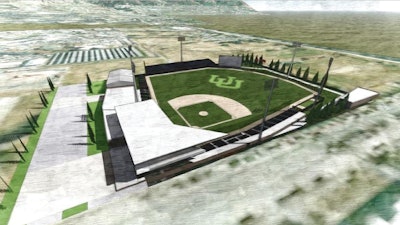 The University of Utah's Board of Trustees has approved an on-campus baseball stadium, and fundraising is underway. Plans for the 1,200-capacity stadium call for concessions, restrooms and ticketing offices, as well as team facilities, including locker rooms, team spaces and coaches' offices. The total project is expected to cost $35 million, with the majority of the funding privately raised. The proposed stadium will be built at the site of the current Utah baseball practice field and could open as early as 2025.
The Flying Squirrels Minor League Baseball team based in Richmond, Va., has reached a deal with the city government to build a new baseball stadium and surrounding Diamond District. Construction could begin on the 10,000-seat facility in early 2024 and wrap up by the end of 2025, with the stadium opening for the 2026 baseball season. The venue will anchor Richmond's vision for an estimated $2.4 billion Diamond District, which will also include businesses, green space and housing. Earlier this year, Major League Baseball said that the Flying Squirrels' existing facilities would need to meet certain facility standards for MiLB stadiums, including an enclosed batting tunnel for each team and renovated locker rooms, by 2025 or risk an uncertain future in Richmond.
The Pittsburgh Planning Commission has approved a $240 million, 240,000-square-foot Arena and Sports Performance Center for the University of Pittsburgh. The arena will be the new home for gymnastics, volleyball and wrestling. Sixteen of Pitt's 19 varsity teams will train in the center. With construction expected to be complete around November 2025, the facility will be part of Victory Heights — a multibuilding project that was announced in January 2020 but was delayed by the pandemic.
Breaking Ground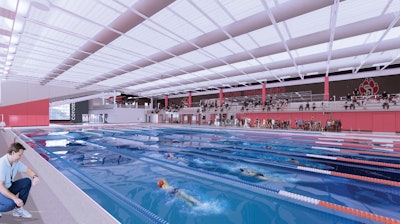 The University of South Dakota in Vermillion has broken ground on the Wellness Center and pools expansion that will serve as home of the Coyote swimming and diving program beginning in the fall of 2024. The Coyotes' new competition pool is part of a larger $31.25 million expansion project that will add an estimated 45,800 square feet to the south side of the Wellness Center. The project also includes a leisure pool with a warmer temperature than the competition pool, an aquatic obstacle course, a hot tub, a steam room, athletic locker rooms, expanded wellness locker rooms, coaches' offices and lifeguard rooms. The state-of-the-art 50-meter competition pool will feature two movable bulkheads that enable the pool to be divided into three separate zones. The space also includes seating for 400 patrons.
California Polytechnic State University in San Luis Obispo has celebrated the start of construction on the $30 million John Madden Football Center, which was designed by Populous and is slated to open in 2024. The main floor of the facility will provide student-athletes with a locker room, a strength and conditioning area, athletic training and therapy space, lounge space and a fueling station, and multifaceted outdoor space and equipment storage. The second floor will be home to coaches' offices, meeting rooms, conference rooms and outdoor patios. The football center is named for well-known NFL football coach and sports commentator John Madden, who played football and baseball at Cal Poly in the late 1950s before embarking on his coaching and broadcasting careers. Madden died in December 2021 at age 85.