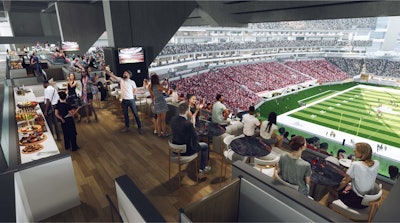 mercedesbenzstadium.com
Atlanta's Mercedes-Benz Stadium has announced that it will be launching a new premium seating option for fans next month.
As reported by Rough Draft Atlanta, the new premium seating area known as the AT&T Lofts will be located in the stadium's AT&T Perch above the west end zone on the stadium's 200 level.
The AT&T Lofts will consist of five private or shared areas that can host 18 to 40 people. These areas will feature a number of luxurious amenities, including flexible lounge seating, an all-inclusive menu and a personal attendant.
According to a Mercedes-Benz Stadium release cited by Rough Draft, the AT&T Lofts "will create additional premium, yet intimate seating options for fans, complementing existing premium areas" — including the Maybach Terraces and Delta SKY360 Terraces that were constructed back in 2022.
Mercedes-Benz Stadium opened in 2017 as a replacement for the Georgia Dome. It serves as home to the NFL's Falcons and Atlanta United FC of Major League Soccer.
"Since opening the stadium, it's been part of our culture to ask our fans for feedback on ways we can enhance their experience," said Doug Roberts, vice president of Stadium Events and Premium Sales.
"We've discovered that many fans are looking for options with maximum flexibility. As part of our listen and respond philosophy, we want to continue to provide spaces beyond traditional clubs and suite seating that can be nimble and change as our guests' needs change. This product is designed to be flexible to meet the desires of our fans."
The AT&T Lofts will be offered for sale for the remainder of the 2023 calendar year on an event-by-event basis, at a rate similar to what suites sell for on a per ticket basis — with prices varying depending on the type of event and setup.
"Our plan is to be flexible to market demand and be able to sell on an annual basis for Falcons and United, as well as offer on an event-by-event basis." Roberts said, as reported by Rough Draft. "We will continue to evaluate how the spaces are being used and adjust as needed."