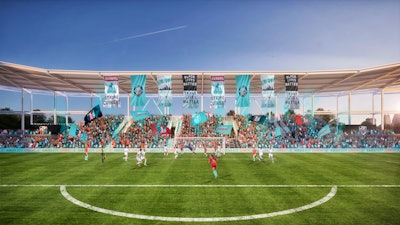 The world's first stadium purpose-built for a women's professional sports team is under construction in Kansas City.
As reported by ABC News, the Kansas City Current of the National Women's Soccer League will train and play in the $120 million facility starting in March 2024. Designed by Kansas City-based Generator Studio, the stadium will seat 11,500 fans when it opens but can expand to 22,000 in the future.
The venue represents a "breakout moment" in women's sports, says USA Today Columnist and ABC News contributor Christine Brennan. She adds that being located in Kansas City amplifies its significance, since such a project might be more expected on the East or West Coast.
"To have it be happening in Kansas City really is a wakeup call for the rest of the nation," Brennan said, as reported by Andy Fies of ABC News. "Where are you? Why aren't you doing this also?"
One reason the stadium is happening there is that Brittany and Patrick Mahomes are among the team's co-owners and financial backers of the project. Brittany is a founding partner of the KC Current and the wife of the MVP quarterback of the Super Bowl Champion Kansas City Chiefs. They join a growing list of celebrities investing in and drawing attention to women's soccer, according to Fies.
Natalie Portman is a founder of LA's Angel City Football Club, which also counts A-Listers Jennifer Garner and Jessica Chastain among its investors. Tennis star Naomi Osaka is part owner of the North Carolina Courage, while former first daughters Chelsea Clinton and Jenna Bush Hager are helping bankroll the Washington Spirit.
"The idea that you're going to a game and the owners are not these unknown old guys sitting somewhere in a box, but they're people that you're watching on TV or in a movie theater, I think that is a wonderful development," Brennan said. "It is now cool and fashionable to be around women's sports.
"As a business leader, you take one look at the numbers of the Women's World Cup, you look at the untapped potential of women's sports. And if you're a businessperson, you go, 'That is the market I want to get into. We've maxed out on the men.'"
Meanwhile, Kansas City mayor Quinton Lucas asserts that when Kansas Citians talk about the Current and the stadium, "they aren't really saying 'Mahomes.' They are just saying there's this cool soccer team. We're getting to know the players. We're getting to know the team. We're learning more about women's soccer."
Lucas predicts the commercial and retail development planned around the stadium, located alongside the Missouri River, will mean economic growth of about $1 billion in the area.
"I think what we're seeing on the riverfront is not just the stadium, but it is a mecca for women's sports, certainly for other economic activity in Kansas City," Lucas told ABC News. "We believe in women's soccer as an anchor for something substantial."
Other communities are taking notice.
"I can't tell you how much feedback we get from not only Kansas City fans, but people across the globe who want to know how we're doing this, who want to bring a team to another state or even build upon the women's teams that they have overseas," Kansas City Current vice president for communications Dani Welniak told ABC News. "And so I know from the conversations that I've had, bigger picture, people are inspired."
The stadium development hits especially close to home for Welniak.
"I have a two-and-a-half-year-old daughter," she said. "And to know that she is growing up in a world where she will know nothing different than women having their own training facilities and their own stadiums is something that makes me incredibly emotional."