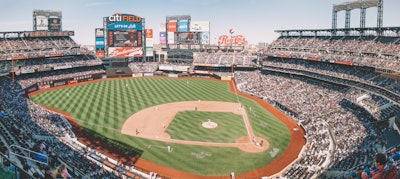 Tomas Eidsvold, Unsplash
The New York Mets have apologized to the Miami Marlins for failing to tarp Citi Field ahead of heavy rains over the weekend, causing a postponement of Tuesday's game and forcing a Wednesday doubleheader.
As a result of the rescheduling, the Marlins, who sat just a half game back of the third wild card playoff spot, lost rest time for their starting pitchers ahead of the final stretch leading into the playoffs.
If the Marlins do make the playoffs, they would have a single day to rest before they have play the three-game wild card series.
According to Ken Rosenthal of The Athletic, the Mets grounds crew didn't cover the infield Saturday when it rained, meaning all the water went directly into the ground. The entire field was then covered with a tarp because rains were expected the entire weekend. However, so much water had seeped into the ground between Saturday and Monday that hours of work from the grounds crew Tuesday couldn't get the field playable.
Mets owner Steve Cohen apologized to the Marlins on Wednesday with a post on X (formerly Twitter).
"Our sincere apologies to the Marlins and their fans for having to postpone last night's game," Cohen posted Wednesday on X. "We know how important this series is to the Marlins and every effort was made to get the field playable."
A message on the scoreboard long before the scheduled 7:10 p.m. start alerted fans the game would be delayed, and another message read: "Tropical Storm Ophelia brought heavy precipitation to the area. We are trying to make the field conditions playable."
Marlins manager Skip Schumaker wasn't happy with the situation.
"It was obviously a giant mess-up [Tuesday] night," Skip Schumaker said before the doubleheader, according to the New York Post. "But the reality is we have two games today."
In the end, the Mets ended up beating the Marlins 11-2 in the first game of the doubleheader, and the Marlins took the second game 4-2. The Marlins now sit two game behind the Arizona Diamondbacks for the wild car spot.