The Number of Rec Departments Building Disc Golf Courses Is Increasing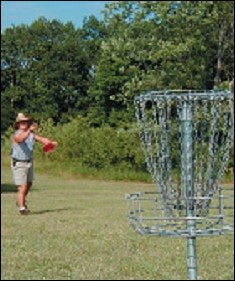 Two years ago a group of volunteers approached the West Des Moines (Iowa) Parks and Recreation Department to pitch their idea: If the department supplied the land and helped install and maintain a disc golf course, the volunteers would raise all the funds necessary for the course and assist in its installation.
Though this offer may seem unusually generous, it is actually becoming increasingly commonplace - at least when it comes to disc golf. Recreation officials in Mebane, N.C., and Manitowoc, Wis., were also confronted with local groups of disc golfers willing to offer their services in exchange for a place to play their sport. In all three cities, a course was developed and a whole new set of recreation enthusiasts discovered disc golf.
"It's just amazing," says Jeff Malloy, recreation supervisor for the Manitowoc Parks and Recreation Department. "You can sit out there on Saturday and Sunday and see hundreds of people on the course. It brings lots of people into the park, and then they do other things, too. They picnic and play soccer and ultimate Frisbee. The park has just exploded in population."
After meeting a professional disc golf course designer at a conference two years ago, Malloy and other recreation officials decided to schedule a disc golf demonstration day with portable baskets to gauge community interest. Before the day arrived, a community member approached Malloy and offered to talk to local businesses and organizations to find sponsors to pay for a course. The volunteer's determination, combined with a turnout of 150 people at the demonstration, convinced the department to install a course.
A grand opening for the 18-hole course took place in June. Since then, two tournaments have been held at the course and community members have formed the "Discover Eastern Wisconsin Disc Golf Club," which hosts a doubles league on Wednesday nights.
The growing popularity of the sport seems to stem from more than one source, according to Malloy. "Part of it is that it's a very cheap sport," says Malloy. "You can buy a disc for $7, and you can play the game with just one disc. It doesn't cost you anything to play at most courses, and as a player, I find it a lot less frustrating than regular golf. I don't have to use that long, skinny stick to hit that really little ball, but it's basically the same idea. You go out, get some exercise, talk to friends and have a good time."
Although there are the obvious differences, the concept of disc golf is much like that of traditional golf. The object of the game is to complete each hole in the fewest number of throws. A hole is typically a 5-foot pole with chains affixed, ringed with a metal basket. Players "tee off" from a concrete pad. As they progress on the course, players make each consecutive shot from the spot where the previous shot landed. Once the disc lands in the basket, the hole is completed. The trees, shrubs and terrain in and around the course provide challenging obstacles for disc golfers, who often prefer a rougher terrain.
Fortunately, that's just the type of land that many recreation departments have available. "One of the best things about a disc golf course is it uses areas that can't be used for baseball diamonds, basketball courts and tennis courts," says Rodney Gardner, a core volunteer for several disc golf courses in and around Des Moines. "We want hills, we want trees, and we want creeks intersecting our fairways."
When recreation officials in Mebane were confronted by a volunteer requesting a course, they were happy to provide undeveloped, unused land in one of the city's lake parks. Recently completed, the wooded course now doubles as a nature trail when not being used for disc golf.
The volunteer installed the course with the help of his friends. He had almost completed the installation of 18 holes last year when a severe storm tore up at least 10 of the holes, forcing him to clear much of the area of trees and debris a second time. "It was amazing how much time he put in every week, even during the winter months," says Dean Ray, director of the Mebane Parks and Recreation Department. "It's great to have someone so enthusiastic about it. A lot of people would have given up by now because we're talking about thick woods."
A typical 18-hole disc golf course will cost anywhere from $10,000 to $12,000. Malloy estimates that the cost of materials for the Manitowoc course, including baskets, tee pads, tee signs and frames, poles, hardware, and a welcome sign, was $11,500. A business in Manitowoc paid about $540 to sponsor one hole, and the recreation department funded the rest.
Although disc golf courses are fairly inexpensive compared with most other recreational developments, much of a volunteer's time can consist of trying to convince local organizations to sponsor a hole. Gardner and other volunteers spent almost six months raising money for a disc golf course in West Des Moines, and then helped install the course last year. "For me, the time-consuming part is raising the money," Gardner says. "I'm a computer guy, not a salesman."
The West Des Moines course is one of 17 in the Des Moines area and one of about 60 in Iowa. "We have the third most of any state, just behind Texas and California," boasts Gardner. "Geography-wise, I'm not sure why Iowa has had so many for so long, but with the lower population here, our claim to fame is that we have the most courses per capita of any state."
The popularity of the West Des Moines course has made it a great addition to the city's parks, according to Sally Ortgies, the city's superintendent of parks. Her office window faces part of the course, and she says she constantly sees people participating, even on weekdays. She credits the volunteers for initiating the idea. "We get kind of trapped into the mind-set that we've got to fund basketball courts and tennis courts and swimming pools - the standard park things," she says. "When it's something special like disc golf, sometimes it takes volunteers to get it going."
"There are a lot of park and rec departments out there with undeveloped land," says Malloy. "A disc golf course is something that, in the grand scheme of things, is very inexpensive to put in - $12,000 and some work, and you've got yourself a course - and disc golfers don't need a whole lot. They need some baskets and some places to throw from, and that's pretty much it."