Marketing-savvy facility operators are reaping the benefits of a high-profile Internet presence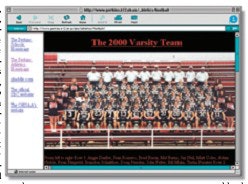 By this time, most operators of athletic, fitness and recreation facilities who want to have a presence on the World Wide Web already do. Unfortunately, most of these sites aren't designed with long-term results in mind, with web masters opting for brief rundowns of programs, hours of operation and perhaps a few glowing self-referential comments. Worse still are many web sites for high school and college athletic departments, which sometimes don't even list current schedules and statistics.
"You don't see our hours of operation on my site, because that's so vanilla," says Evan Miller, owner of the multiactivity Charlotte (N.C.) Sports Center (www.charlottesportscenter.com). "Most indoor facilities with sites look so generic, as if they were thrown together by somebody's brother-in-law - which my first one, in fact, was."
Charlotte Sports Center's original site was "rudimentary," Miller says, and it went live before the facility opened in 1999. It was up for about two years before Miller started asking around about digital-services providers in the area. He obtained a list of companies from friends and colleagues, checked them out on the Web, settled on four or five finalists, interviewed them and contracted with the provider he thought would make Charlotte Sports Center's web site as interactive, vibrant and energetic as the center itself. That strategy, he hopes, will be the key to unlocking many virtual doors in Miller's quest to take the concept of Charlotte Sports Center nationwide. "My motivation for the web site wasn't just to get new local customers," Miller says. "It was to present the professional, crisp, corporate model I was after. The web site really is a sales tool."
To that end, the facility's colorful site not only provides visitors with loads of programming, equipment and registration information, but it also offers a section called "Everything Else," which features an outline of the facility-design, business planning and consulting services Miller offers to potential corporate partners.
Even if you're not looking to expand your facility's business across the country or even across town, a web site that makes it worth a user's time is essential in today's fast-paced, networked world. The marketing and promotional opportunities available via the Internet for attracting new facility users and keeping current ones coming back are virtually endless. What's more, if you can develop ways to cross-market your facility with other forms of advertising and partner with other businesses in your community, you're probably already ahead of your competition.
"The more you have on your web site, the better," says Frank Louvis, owner of Coastal Technologies in Montclair, N.J., and the designer of the site for Axiom Health & Fitness Center ( www.axiomfitness.com) in Fairfield, N.J., which contains detailed class descriptions, the Surgeon General's Report on Exercise, message boards and chiropractic information from a doctor whose office is in the facility. "And the more well-rounded you can make your facility look, the better. I think it's always better to have too much information."
The owners of Axiom and Charlotte Sports Center opted to outsource their sites' production and maintenance - although it must be noted that Louvis is a longtime member of Axiom. That said, the fees charged by many web site developers remain high despite an already-saturated market. (The initial price tag for the Charlotte Sports Center's site, which continues to evolve, fell somewhere between $5,000 and $10,000, Miller says.)
That's why operators of several nonprofit and for-profit facilities have opted to create their own sites in-house. That's also why many such sites tend to look amateurish and lack exciting content. But a new breed of do-it-yourself web designers is emerging from coast to coast, proving that it's possible to save thousands of dollars a year and still boast an intriguing web presence.
Back in the mid-1990s, the Corvallis (Ore.) Parks and Recreation Department's web site (www.ci.corvallis.or.us) consisted of about 60 "massive and unmanageable" pages, according to Michelle Love, the department's senior administrative support specialist who - with no previous web experience other than as a user - became the department's inhouse web master five years ago. Love's first task was shrinking the site to about 45 pages. "My goal when I took it over was to make it simple and user-friendly," she says, adding that the department paid for her to attend classes on HTML programming and other web-design basics. "After that, it's been a learn-as-I-go thing."
Among the lessons Love has learned is how many of Corvallis' 50,000 residents rely on information she provides - from softball league scores, schedules and news to the names of members who sit on the department's citizen boards, commissions and task forces. And as hot-button issues become hotter - unleashed dogs in city parks, for example - more residents are requesting online access to meeting agendas and minutes.
Love and city recreation division manager Dan Eden recently developed a set of web site objectives to meet by April 2004 that will require yearly, monthly, weekly and daily updates. Plans include creating a complete database of meeting minutes, building projects, open space updates and other information. Eden and Love also hope to acquire Dreamweaver software, which allows for easy site design without using HTML code.
"Maintaining a web site can get away from you very easily," says Love, who typically spends about 90 minutes a week updating and maintaining the site. "All of a sudden, you're devoting a lot of staff time to it and taking time away from your other duties. What we're dealing with is the reality of just how much we can do."
That's a common obstacle at the municipal level. To work within its own limited resources, the New Britain (Conn.) Parks and Recreation Department (members.aol.com/recnpark) hooked up with America Online, which provides free site hosting, and hired a former counselor from a department-sponsored camp to design its site. Today, that person no longer lives in Connecticut, but he still serves as the city's web master from his home in Minnesota, where he earns $20 an hour from the department for about 50 hours worth of work per year. Compare that to the $100 (or more) hourly fees charged by some professional data-services providers, and the department's getting quite a deal. "We're pretty cheap, and we don't have a lot of money," says Bill DeMaio, New Britain's acting parks and recreation director. "Still, we want to be a little different than everybody else."
For proof, log onto the department's site, which is one of the few parks and recreation sites where you're likely to find a special section encouraging literacy in children and offering book-reading suggestions for kids in kindergarten through eighth grade. The page also contains links to the New Britain Public Library, Amazon.com and Scholastic Inc., the world's largest publisher and distributor of children's books. In keeping with the literacy theme, the site offers links to major area newspapers and television stations. "Our business relies on the media," DeMaio says. "So it's important for us to have good relationships with them."
Good relationships are the basis on which effective web sites are built. Maintaining a profitable site - measured not necessarily by increased revenues and memberships but by such intangibles as customer service and overall image - requires some extra effort and time that eventually pays off. "When I get an e-mail, my goal is to respond immediately, usually within a minute or two," Love says. "And I think that really impresses people. I get emails back that say, 'Wow, I can't believe you responded the same day, let alone the same minute.' "
Internet experts often cite other key techniques that make one facility's web site stand out from another. Among them:
• Request an e-mail address from every program registrant, new member and any other person interacting with your facilities. Then send them promotional postcards and newsletters via e-mail, describing additions to your site or featuring a coupon users can print out.
• Host games and contests. After all, sports and recreation is all about fun and competition. For example, find a local restaurant to donate a free pizza (or chip in your own free T-shirt and program registration) to the user who, say, submits the best name for your indoor facility's new snack bar.
• Post training articles and sports and exercise tips, written by staff members, that rotate periodically. "That way, you use your inhouse expertise to essentially show how good your people are," Louvis says.
• Survey your users. The YMCA of Greater Vancouver (www.ymca.vancouver.bc.ca) solicited input from its users regarding a site redesign. "My approach has been that the Web is a very important tool for communication, and communication needs to be two-way," says Stephen Grady, manager of information systems at the Vancouver Y. "They're the ones who are using the site. If they don't like it, they won't use it." As an incentive, Grady offered participants the opportunity to win a free YMCA T-shirt if they replied by a specific date. Within two weeks of posting the 12-question survey in late August, the Y received 60 responses.
• Use photos of real people. Many sites have now replaced images of models or building exteriors and interiors with actual members and participants. Miller accompanied a photographer throughout his facility to help capture more than 1,000 digital images that will be rotated on the center's site in groups of 50 to 75 photos. All members sign a liability waiver giving the Charlotte Sports Center permission to use their images for advertising purposes. "I'm proud of my building, and I want to show it off," says Miller. "But the consumer wants to see a picture of somebody playing sports. We as facility operators are guilty of thinking we need to show more pictures of our facilities, when it's really the faces and personalities of the people in those facilities that sell them for us."
• Carefully consider the use of flashing images, frames and other "gee whiz" options. The risk of such features is that they increase the potential for incompatibility with a particular user's browser or computer. Some web sites look completely different on a Macintosh computer than they do on a PC system.
• Make sure more than one employee has the skills to maintain and upgrade the site. Louvis recommends granting at least limited access to at least one person from each of the facility's departments. "If we had four or five people on the department's web team, that would be outstanding," says Love, one of about 30 employees in the Corvallis Parks and Recreation Department - and the only one who currently knows how to maintain its site. "If I'm gone, surfers still expect the updates to happen."
Experts also suggest cross-marketing your facility, its programs and its web site. Advertise your web address on everything that originates from the facility - brochures, print and broadcast ads, T-shirts, pens and pencils, water bottles, even equipment. And if you use catchphrases in your marketing to appeal to core demographic groups, extend them to your web site. The site for Charlotte Sports Center, which caters to youths and serious adult competitors alike, features such lines as "Any more fun and you would have to be 18!" and "Any closer to pro and you'd have to get an agent."
Developing or redesigning a web site can be daunting. And grappling with database management and the issue of accepting real-time registrations - directly or via a third party such as Active.com or iSignUpNow.com - remain challenges for many administrators. Complicating that challenge is the fact that, according to a 2000 U.S. Commerce Department study, only 42 percent of the homes in urban areas have Internet access.
Houston Mayor Lee Brown is trying to increase those numbers in his city. In August, Houston installed what Brown calls "revolutionary" software at three municipal libraries in an effort to make it easier for citizens to use the Web. Plans also call for allowing free Internet access from kiosks set up in city facilities. "I think we are at a technological point when equal access to technology must be guaranteed," Brown told the Houston Chronicle. "It must be a right, not a privilege."
Regardless of how people come to the Web, facility operators - as they continue learning how to use the Internet's power to connect with an increasingly wired society - are glad they're there. Says Louvis, "It's always good to hear that somebody came to your facility because they saw it on the Web."