Athletic Business celebrates 25 years in the sports, recreation and fitness industry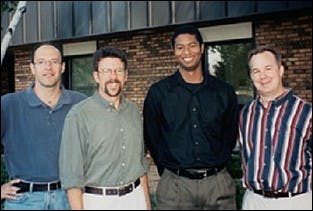 Much has changed at Athletic Business, which turned 25 in February, since our 20th Anniversary Issue in January 1997. In early 1998, the magazine promoted its first new editor (this writer) in 11 years. Later that year, in July, the company's founder, Fenton Kelsey, passed away after a long illness. In September 2000, Rick Berg, the magazine's longtime editor and editorial director, called it quits after 17 years at Athletic Business Publications. Finally, the editorial staff expanded to four full-time positions in the summer of 1999, allowing for more original research and expansion of the magazine's scope.
January 2002 came and went without a 25th Anniversary Issue - largely because, well, we'd done that, and also because our job is reporting on the present and anticipating future events, not dwelling on the past. But then as we talked about the July issue - which for the past four years we've themed to cover liability, finance and maintenance issues, plus a State of the Industry report - we realized there was a lot we didn't talk about five years ago.
In fact, we only devoted 10 pages last time around, split about evenly between attempts to catch up with industry leaders of two decades ago and items pointing out some of the goofier products, trends and (let's face it) hair styles that appeared in Athletic Purchasing & Facilities in the late 1970s. Very little was devoted to design, either of facilities or of equipment, because design as an issue was almost completely absent in 1977 - in the industry and in the magazine. For example, sports architecture was just in its infancy; two new facilities profiled in the magazine's first year, not to mention the early years of the Facility of Merit awards, were devoted not so much to design but to function.
In this issue, we bring a twenty-first century perspective to the late twentieth. "A Crowded Field" (p. 48) examines the history of the sports architecture profession; "Fan Tactics" (p. 57) takes a look at the modern sports facility and the development of the term "revenue stream," and how both affect the fan experience. We also catch up with Lake Superior State University and Elmira College (p. 10), home of the aforementioned facilities AP&F profiled in 1977.
In the area of equipment, "Theories of Evolution" (p. 68) tackles the last quarter-century of fitness equipment, while "Great Planes" (p. 79) does the same for the sports surface industry. And a special section in Up Front offers some perspective from AP&F's first- and 25th-year advertisers (p. 12)
In the column well, you'll find "timely" reports on the NCAA's many antitrust battles over the years (p. 18), the changing status of women collegiate coaches (p. 24) and high school pool-depth requirements (p. 30), and more. In Time Out (p. 114), we print a recovered column from July 1977 that for years had been lost in a vault somewhere.
As philosopher George Santayana famously said, "Those who cannot remember the past are condemned to repeat it." Our hope is that this 25-year retrospective allows all of us in the athletic, recreation and fitness industry to avoid that fate. Particularly the hair styles.