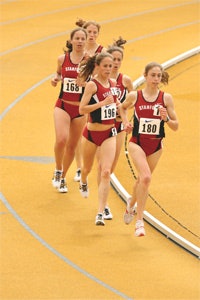 Mariah Burton Nelson still has the "flimsy red pinny" she wore while playing basketball for Stanford University as a freshman in 1974. She still recalls the insult she felt every time she pulled it on - not for practice, mind you - but for actual games. She remembers how the team "struggled along" with a graduate assistant as head coach, playing in the "dinky" women's gym across campus from the school's arena.
Detect any bitterness?
"I was not happy my first two years there," says Burton Nelson, who never kept that fact a secret, even as she embarked on a career that would see her lead the Cardinals (the name was plural back then) in scoring and rebounding during each of her four seasons on the varsity. "No one who's suffering from blatant discrimination feels good about it. But now, some 30 years later, I'm glad my teammates and I spoke up, and I'm glad that Stanford listened to us."
It didn't take long. At the conclusion of Burton Nelson's sophomore season, Stanford replaced the graduate assistant coach with a pair of hired professionals, moved the women into the larger playing venue and expanded the team's travel budget. During her senior season, the women's basketball program had one scholarship at its disposal. A year later, there were 12.
On May 4, Burton Nelson became executive director of the American Association for Physical Activity and Recreation, having already established a successful career as an author and speaker who frequently addressed the topic of leadership. "Good leadership is characterized by two things: a willingness to listen, and a willingness to do the right thing," she says. "Stanford has done both."
In terms of institutional leadership in the context of intercollegiate athletics, Stanford has set the gold standard. Simply put, it has been doing the right things for decades. The university was among the first wave of schools to respond to objections regarding its athletic department imagery, dropping the 42-year-old "Indians" nickname in 1972, more than 30 years before the NCAA formally called out dozens of schools for their "hostile and abusive" portrayal of Native Americans. The year 1972 also brought passage of Title IX, and Stanford was among the first to embrace the law "without any pressure from the courts, which is how many other schools grudgingly came into compliance," says Burton Nelson. "Many universities are still not in compliance."
One of the tangible results of Stanford's continued commitment to women is its unparalleled success in the Directors' Cup, the annual measuring stick of athletics achievement established by the National Association of Collegiate Directors of Athletics prior to the 1993-94 academic year and currently sponsored by the United States Sports Academy. Stanford was runner-up to North Carolina in the inaugural Cup standings, placed first the following year and hasn't surrendered the title since - a winning streak unmatched by any school in Directors' Cup competition (Division II, Division III and NAIA awards were introduced in 1995-96).
"Stanford University is and has always been seen as a prominent place for women," says Ted Leland, whose 14-year reign as Stanford's athletic director ended Jan. 1. "Of the top private schools in the country, we were the one that had been admitting women as students from the very beginning. We had a long tradition of treating women as an integral part of our culture, so it just made sense that we would excel in women's athletics and support."
Support during Leland's era, particularly for women's athletics, has been staggering. Leland - who left Stanford to become vice president in charge of fundraising at his alma mater, the University of the Pacific - left behind an athletic department that awards roughly $3 million more per year in women's scholarships than any other school in the country. In all, Stanford annually awards a nation-leading $17 million in scholarships to men and women student-athletes competing in 38 varsity sports, and every one of its athletic scholarships is fully endowed.
"Many old-school male athletes and coaches resisted giving women their fair share of athletic opportunities, funding and support," says Burton Nelson. "Yet, Stanford administrators took the lead in doing the right thing, and I'm very proud of them for that."
On the opposite side of the country, in Massachusetts, 10-time Directors' Cup-holder Williams College could be considered the closest contemporary to Stanford; both are private schools that graduate more than 90 percent of their student-athletes. Except for one thing - as a Division III school, Williams awards no scholarships at all. Athletic director Harry Sheehy, a former Williams basketball player who coached at his alma mater for 17 years, wouldn't have it any other way.
"The way our resources are set up here, we are a line item in the education of each and every student," says Sheehy, who oversees 32 varsity sports split evenly between men and women. "We don't have to worry about generating revenue. The institution feels that a certain dollar amount is a good thing to give to a department so that it can educate students in a way that is not replicated in the classroom. And it's a large number of students. That's the one thing about the Directors' Cup - you can't win it or even be competitive without a broad-based program."
NACDA's Laurie Garrison, who has been working on the Directors' Cup program since its inception, agrees. "Schools that regularly finish in the top 10 don't put all their resources into one, two or three sports. They spread their resources throughout the department," Garrison says. "And there's usually a pretty even balance between the points generated by the women and the men. If both genders do well, then the school does well."
That approach has made Williams College's success - the school was the first to be ranked number one by U.S. News & World Report and win a Directors' Cup in the same year, a feat it has accomplished three times - seem almost accidental, according to Sheehy. "We don't sit in a room and try to place our resources in spots that will help us win the Directors' Cup," he says. "We try to take the resources we have and allocate a fair amount to each program in order for that program to provide an opportunity for our student-athletes to achieve excellence."
Division II Grand Valley State University has achieved a lot (a Directors' Cup three-peat was completed this spring) with a lot less than other schools. While most Southern schools playing Division II baseball max out that sport's scholarship allotment at nine, the Lakers - who hail from the cold-weather reaches of Grand Rapids, Mich., no less - make do with three and a half. Yet the team entered this year's NCAA championships with three straight top-six finishes to its credit. Given such success stories, it's only natural that coaches lobby GVSU athletic director Tim Selgo to up their programs' outlay. "Our coaches have a competitive spirit by nature, so they always want to have a better situation for their kids," Selgo says. "We certainly face that, but we also have a lot of great things going for us at Grand Valley, and I think our coaches recognize that."
Selgo cites as a draw to coaches and student-athletes alike GVSU's "beautiful" main campus in suburban Allendale, where construction within the past 10 years of what the athletic director calls "some of the best housing in the country" has triggered a GVSU transformation from commuter school to residential campus. In some cases, its sports facilities are second to none. Grand Valley's own golf course - a Division II rarity - has served as host site of the women's NCAA championships four times (including this spring, with the Lakers represented among the eight-team field), and will welcome the Division II men to "The Meadows" for the first time next spring.
Selgo will be there, just as he is for the majority of GVSU sporting events. As a long-standing hobby, he tracks every sporting event he attends in a given year - often bouncing from the extracurricular activities in which his three children compete to games and meets at Grand Valley. His record for one year is a combined 288 events. When Selgo can't witness the Lakers in person, an athletic department colleague typically does so in his stead. "We have a great staff, and we work pretty hard at attending every event we possibly can in every sport," Selgo says. "That keeps us very busy, but that's important to us."
Camaraderie has proven contagious among Laker coaches, as well. GVSU's volleyball coach and its track and cross-country coach watched in person as Grand Valley won its third football national championship in four years last December in Alabama. In turn, the football coach drove to Arkansas in March to see Grand Valley win its first-ever national title in women's basketball. "When you get that kind of support from people - for each other - it develops a great sense of teamwork among the entire staff," Selgo says. "And that makes everything a lot more fun, because it's certainly a lot of hard work."
And it's full-time work for many more GVSU coaches today than when Selgo arrived 10 years ago. Whereas only four sports programs (football, men's and women's basketball, and volleyball) were fully funded then, the list now includes softball and women's golf, with women's soccer, women's swimming and women's track soon to join it. Roughly twice the scholarship dollars for student-athletes exist now as before.
Assistant coaching positions have been created, too, often at the expense of other operational budget items. "We don't have the latest and greatest uniforms," Selgo admits. "We have nice uniforms, don't get me wrong. But by design, we've put a priority in our spending on people, and it has really paid off for us."
Retention of coaches tops athletic director Greg Warzecka's list of keys to success for the University of California, Davis, which captured six Division II Directors' Cups and was runner-up twice during the eight years it was eligible. (UC Davis just completed its third year of transition to Division I status, which it hopes to achieve by 2007-08.) Within the Aggies' football program, for example, the head coach and his top four assistants have logged a combined 136 years at the school. "With that, I think there is an ability to recruit students. They feel comfortable coming to school here knowing that they're going to play for a coach who has a tremendous amount of experience," Warzecka says. "To retain head coaches - to retain the good ones - really helps."
Retention can take many forms. During a 30-year career at UC Davis, Kathy DeYoung has coached volleyball and softball, leading the Aggies to the Division II softball national championship in 2003. This spring, DeYoung, a newly certified United States Golf Federation teaching professional, guided a first-year UC Davis women's golf program to the Division I Independent Championships, where the Aggies placed four players among the top five and won the event by 34 strokes. Says Warzecka, who oversees 14 women's and 12 men's sports, "When you have leaders in the coaching staff, it certainly makes my job easier - to be able to turn to some of those leaders and get things done."
Hiring is something that Sheehy hasn't had to do much of at Williams College. Twelve of the 28 head coaches in his department (some individuals coach more than one sport) have been at the school at least 15 years. "Great kids are attracted to this place, as are very good coaches," Sheehy says. "The chemistry of this place seems to work in conjunction with the resources we have to enable us to be successful.
"I always tell our coaches that you can coach kids hard at Williams College, and I mean that in a positive way. You can be demanding of them. You clearly have to connect with them in some kind of way personally, because these are really bright kids who understand that there's a bigger picture to all this. But from a technical standpoint, you can coach them and they still want to be stretched. That's a great classroom. The one thing I miss most about coaching is that classroom."
Sometimes, it's the coach who gets stretched. That was the case this spring at Simon Fraser University in Burnaby, B.C. - the first Canadian institution to hire full-time coaches, and the only school in North America to win six NAIA Directors' Cups. It was head swimming and diving coach Liam Donnelly who, upon learning in March that SFU swimmers had engaged in a hazing ritual last September, suggested the team withdraw from the 2006 NAIA championships set to take place within days. This was a program that had won 17 NAIA titles in men's swimming and diving (including seven of the previous eight) and 10 NAIA titles in women's competition (including five of the previous six). An internal investigation supported Donnelly's recommendation. Simon Fraser finished the Directors' Cup winter season in third place and effectively out of the running for a seventh win.
"From our perspective, it wasn't a difficult decision in terms of doing the right thing," says Wilf Wedmann, SFU's director of athletics and recreation. "We believe in having high standards and expectations for our student-athletes, and our standards and expectations require us to act with integrity. We love to win, but our integrity, standards and educational experiences are priorities. There will be other wins, championships and Directors' Cups."
Do the right thing. It's a leadership mantra that is repeated among today's successful athletic directors. And yesterday's, too. For Ted Leland, doing the right thing meant refusing to sell sponsorship signage in Stanford sports venues, so as not to feed the belief that college athletics has become too commercial. It meant controlling coaches' salaries, so as not to skew the athletic department's perceived importance on campus. It meant opposing the adoption of a 12-game football season, so as not to overburden the student in those student-athletes. And, ultimately, doing the right thing meant stepping away from Stanford. "In many ways, college athletics is a young person's game," Leland says, "and I felt I had become an obstacle to the next step for Stanford athletics."
When asked what the next step could possibly be for an institution already perched at the summit, Leland points to the flagging fortunes of the Cardinal football program (which has gone 15-29 since head coach Tyrone Willingham left for Notre Dame and triple his salary after the 2001 season), as well as continued fundraising challenges. "Athletics is an insatiable machine," Leland says. "People don't realize this, but there are a lot of sports at Stanford that are underfunded, that don't have the full NCAA allotment of scholarships, that don't have adequate budgets. So I think there is a lot of work to be done there."
That's why Bob Bowlsby, the former University of Iowa athletic director who officially assumes those leftover responsibilities this month, took the Stanford job in the first place. "I'm not much of a caretaker," says Bowlsby, who has chaired the NCAA's Wrestling Committee, its Olympic Sports Liaison Committee and its Division I Men's Basketball Tournament Committee (twice). "I like to be involved with places that have needs. As good as Stanford is, there are opportunities to advance it even further."
It's a daunting task, admits Bowlsby, who identifies as one of his top priorities the retention of assistant coaches and midlevel administrators in an area of the country known for its high cost of living. Stanford football saw turnover in five assistant coaching positions last year alone. "You can't have that sort of discontinuity if you're going to have quality programs," Bowlsby says. "So that's one of the things that we're going to need to work on: How do we attract and retain a robust staff in this environment?"
Though not involved in the search for his replacement, Leland calls Bowlsby "a great choice." Others agree. "He's a leader in various NCAA committees, so he's very active and visible. That obviously got us interested," says Patricia Jones, vice provost for faculty development at Stanford and a member of the search committee. "Then, when he came for an interview, he impressed all of us as someone who has the right priorities and who values the academic success of his student-athletes."
Few would argue that Iowa, despite landing two men's basketball players on the 2006 Academic All-America Team, is in the same academic league as Stanford, where admission standards alone limit Cardinal coaches' access to perhaps only 10 percent of the nation's available football recruits, according to Leland. But the former athletic director's greatest leadership legacy may well be his fostering of a culture in which success becomes perpetual, regardless of who is at the helm. In successful businesses, "leaders come and go, but the organization is so well put together that it just keeps producing excellence," Stanford business professor emeritus Jerry Porras, co-author of the bestselling Built to Last: Successful Habits of Visionary Companies and a former faculty representative to the Pacific-10 Conference and NCAA, told Stanford Magazine last fall. "I think Ted has inculcated the same sort of orientation into the athletics department."
"Stanford has done a lot of the right things over the years, and I don't think you go in and try to change what have been the bedrock principles at an institution," Bowlsby says. "None of us take very much to our grave other than our integrity. I'm proud of the way we've gone about doing the business at Iowa. There were a lot of folks involved other than me, but I think any leader is responsible for the visioning process, the identification of priorities, the formulation of those bedrock principles. Then I think you have to be the person who sees that those things are put into operation and who indeed exemplifies them. The perpetuation of those principles is probably the most important thing that any leader can do."