Construction begins on a new football stadium and improvements to Saluki Arena at Southern Illinois University, Carbondale, and on the new Grand Prairie Active Adult Center in North Texas.
Construction on an ambitious $83 million capital-improvements project nicknamed "Saluki Way" has kicked off at Southern Illinois University, Carbondale. One focus of the multiphase project is a new 12,000-seat football stadium. Designed by Kansas City-based 360 Architecture and Carbondale-based Image Architects Inc., the U-shaped, $25.3 million stadium will replace McAndrew Stadium, built in 1939. Eight enclosed luxury suites overlooking the synthetic turf field will help pay the project's debt service. A $29.9 million addition to Saluki Arena, built in 1964, will include new seating throughout, improved accessibility, and new concessions and restroom areas. Another major component of the project is an $11.5 million, 53,000-square-foot, two-story addition to the arena that will serve as its new main entrance, while also providing a ticket office, football and basketball team support facilities, an auditorium and administrative space. Saluki Way is expected to be completed in 2010, in time for the university's "Southern at 150" festivities.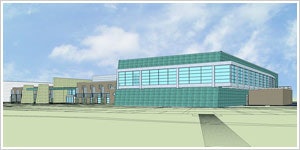 Construction is under way in North Texas on the Grand Prairie Active Adult Center, which is just one element of a 78-acre municipal park development that will also include a $45 million public safety center. The $25 million activity center will feature a natatorium, a gymnasium, a fitness center, a hot tub, a second-floor walking area with glass tunnels and lake views, a group exercise room, classrooms, a 100-seat theater and banquet rooms. Dallas-based Brinkley Sargent Architects designed the center so that it will provide both visual and physical connections to a series of lakes and open lawns on the site. A pedestrian boardwalk and vehicular esplanade will link the facility to the safety center and neighboring retail developments.