A former triathlete explains what happens after athletes retire.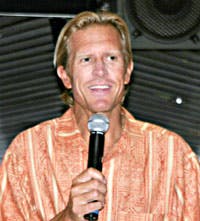 Photo of former triathlete Scott Tinley
"When you make a transition away from the game - emotionally, physically, mentally, spiritually - you go through something. You change, and you're constantly searching for something," said former Tennessee Titan running back Eddie George last month, just days after longtime teammate Steve McNair was murdered by his 20-year-old mistress. "There's a much deeper issue here than just Steve and extramarital affairs." George's assessment of the tragedy "nails it," according to retired professional triathlete Scott Tinley, a San Diego State University lecturer and author of Racing the Sunset: An Athlete's Quest for Life After Sport (Lyons Press, 2003). Once his first, admittedly narcissistic career had ended, Tinley battled his own "dark feelings of despair" before ultimately focusing on athlete retirement as a Master's thesis topic. Now 51, he is researching the disposability of athletes - what he calls "the changing hero paradigm" - as he pursues a doctoral degree. Paul Steinbach recently caught up with Tinley to learn more.
Q: What are retired athletes searching for?
A: That search is for the authentic "you." Think about the professional athlete and the life that they've lived since their early teens. It's insular. They've been coddled. A lot of them haven't had the kind of connections to life that enable true self-awareness.
Q: Has the public's increasing fascination with sports made this phenomenon worse, or more widespread?
A: I wouldn't say it's worse. Certainly, it's more widespread, because of the multitude of media platforms that need content. They want good narratives and hero stories, and that includes fallen heroes. People like to see heroes ascend and they like to see them fall, because there's a human connection to that. Any time you root for the hero, you're contributing to his or her demise in some way.
Q: How common is it for athletes to experience a troubled retirement?
A: I would say that as many as 70 percent of athletes who have played professional sports with some degree of success experience some type of emotional trauma in their transition - from something as difficult as marriage counseling to as tragic as suicide. That's just a hunch. We do know that the divorce rate post-retirement in the NFL is well over 70 percent.
Q: Do you have empathy for serial retirees like Brett Favre?
A: Absolutely. Sometimes it takes a few years. We've seen it lots of times. Any number of athletes have retired and said, "I thought I would be happy in retirement, but I was bored." And the analogy to that is soldiers who return after their tour of duty, having lived with this heightened sense of existence for 365 days, and two days later they're re-upping because they would rather be in the middle of a firefight and feel alive than be sitting on the couch, watching TV and feeling dead.
Q: Can athletes do anything to combat retirement-related problems?
A: Part of it has to do with learning humility - the hardest of human traits. The more cerebral, astute or insightful professional athlete will realize, "Okay, I lived in this lofty, god-like world and now I have to learn humility. Otherwise, I will not survive."