A suspended ceiling hides unsightly and dusty tangles of ductwork, trusses and light fixtures.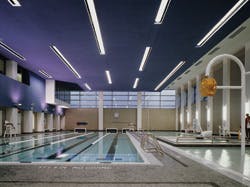 Photo of the Boll Family YMCA pool in Detroit, MI
The importance of air exchange in natatoriums explains the prominence of ductwork in most pool areas. Although a variety of effective aesthetic treatments exist (most typically, brightly colored paint), the combination of large metal or cloth ducts, exposed trusses and suspended light fixtures can make for an unsightly, dusty tangle overhead.
At the Boll Family YMCA in Detroit, it's all hidden behind a suspended ceiling costing around $12 to $14 per square foot. Designer SmithGroup Inc. of Detroit decided against an acoustical-tile material to avoid a "pool in an office suite" feeling; instead, the ceiling is made of gypsum board and coated with a deep blue paint. The dark color necessitates some care in augmenting the ceiling's recessed lighting fixtures - with perimeter light tubes and wall sconces, as well as daylighting on the far wall - but it makes for a dramatic view from below as well as from the building's adjacent lobby.