One Pennsylvania school district with state-of-the-art athletic facilities is cashing in on non-school programming.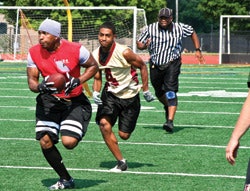 As school districts prepare for yet another academic year of budgeting uncertainty, athletics administrators are looking beyond implementing pay-to-play policies, scheduling shorter seasons or reducing team travel; they also are searching for creative ways to make - not just save - money.
With that in mind, Manheim Township School District in Lancaster County, Pa., and the nonprofit Manheim Township Education Foundation recently formed Eventis Group to promote non-school-sponsored events at the district's new synthetic turf fields, gymnasiums and auditorium. Those facilities were funded and built during happier and more secure financial times as part of a massive $83 million renovation and expansion. Now, like most public school districts, Manheim Township is suffering from budget cuts and reduced state allocations.
Serving in a capacity similar to that of a convention and visitors' bureau, the nonprofit Eventis Group this summer began booking everything from local soccer tournaments and championships for both AAU field hockey and the National Amateur Bodybuilders Association to performances by a ballet company - with all net proceeds supporting the district in the form of grants, scholarships and other programs. (The foundation also provided $70,000 in startup costs for Eventis Group.)
In many cases, individual booster clubs will have the opportunity to provide concessions and other services at events, pocketing a portion or all of the proceeds. "We think there is a lot of opportunity," school board president Hannah Barges told the Lancaster New Era. "We have these wonderful new resources, and we want them to be used."
Eventis Group executive director Robin Ashby adds that school districts with desirable athletics and performance venues often lack the resources needed to promote them. "You have to find something that separates you from other facilities," she says. "And we have."
The organization could help save some of the programs initially established by the foundation but now on the chopping block because of the costs associated with running them, according to Ashby, who works with the schools' athletic directors to determine when facilities are available for outside events. Within three years, she estimates, Eventis could be generating $600,000 annually, as well as bringing in naming-rights and corporate-sponsorship deals.
The Manheim Township district initially considered hiring an outside firm to handle such responsibilities. But in that case, the outside firm also would have taken a chunk of the revenue. "Why," Ashby asks, "should a private, for-profit business be making money from this?"