Metropolitan State University of Denver broke ground last month on a new athletic complex to be used by its baseball, softball, and men's and women's tennis and soccer programs, as well as students and the public.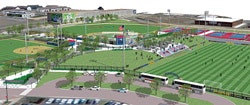 Metropolitan State University of Denver broke ground last month on a new athletic complex (pictured) to be used by its baseball, softball, and men's and women's tennis and soccer programs, as well as students and the public. The school's athletic department is also working with Denver Public Schools and Colorado Youth Soccer to host youth events at the complex. The first phase of the $12 million project will include construction of eight tennis courts, with additional phases adding synthetic turf baseball, soccer and softball fields, and locker rooms. Denver-based Davis Partnership Architects is working with Cannon Design of St. Louis on the project.
Work begins this month on construction of a new city-owned ice arena in St. Catharines, Ont. The design-build project is being led by St. Catharines-based Ball-Rankin Construction and will include an NHL-size ice sheet, a U-shaped seating arena that can accommodate 4,500 fans, and an additional 500 retractable seats. The $50 million arena will be the new home of the junior ice hockey team Niagara IceDogs when it is projected to open in September 2014.
Macon State and Middle Georgia College are undertaking their first project this month as the consolidated Middle Georgia State College. The school is breaking ground on a new $21.5 million recreation and wellness center on its Macon campus. The center will include aquatics and fitness areas; basketball, volleyball and racquetball courts; an interactive gaming area; and an indoor walking track. Lyman Davidson Dooley Inc. and Flynn-Finderup Architects of Marietta, Ga., partnered on the project's design.
First Pitch
The Golden State Warriors have selected Snøhetta Los Angeles and AECOM to design a new sports and entertainment complex. In addition to providing the Warriors with a new home, the center will host concerts, cultural events and conventions... Butler University has kicked off a $16 million campaign for improvements to its Hinkle Fieldhouse. Upgrades to the 84-year-old structure, expected to begin in 2013, will include construction of a student-athlete academic center, a strength and conditioning room, a sports medicine center and administrative offices, as well as remodeling the locker rooms. In addition, a new video scoreboard and chair-back seating will be added... The Vineland (N.J.) Zoning Board approved a scaled-down plan for a proposed $350 million sports facility. Instead of a 10,500-seat domed facility, Magic Sports Complex will be a smaller facility with seating for 5,000. The complex would also include space for fitness, offices and a medical center, as well as indoor and outdoor water parks and multiple athletic fields. An accompanying Magic Village would provide housing for young athletes attending sports camps and other events at the facility. The project is also seeking zoning variances and will need to go through further review before construction can begin... The Oxnard (Calif.) Union High School District is reviewing bids for construction of new pools at Camarillo and Hueneme high schools. The two pools will cost a total of $8 million and be used by various sports teams. If financially feasible, the district hopes to use stainless-steel shells instead of traditional concrete and plaster for the construction. Once a construction firm is selected, the district hopes to begin work by the end of March.
Grand Openings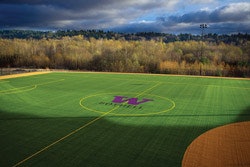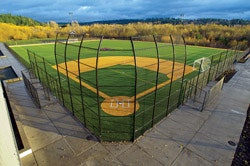 The University of Washington celebrated the grand opening of a new sports and recreation complex (pictured) on its Bothell campus in December. The $3.3 million complex will be used by both the school's athletic teams and intramural programs and features a shared soccer and softball field, tennis courts, a sand volleyball court and a basketball court that will also serve as an ice rink during colder months.
The Greater Wichita (Kan.) YMCA opened its newest branch, Robert D. Love Downtown YMCA, in December. The 110,000-square foot facility will be able to serve twice as many patrons as its next-door predecessor, which is currently being razed to make room for additional parking. The facility includes a Kid Zone, a beginners' wellness area, cardio and strength areas, fitness studios, an indoor track and an eight-lane lap pool, as well as a recreation/therapy pool and a two-court gymnasium. The LEED-certified facility was designed by Schaefer Johnson Cox Frey Architecture of Wichita.
The Concordia Parish Recreation Complex opened last month in Vidalia, La. The $6 million project was a partnership between the city and the recreation district, with the city purchasing and leasing 30 acres of land for the district's use in addition to its own 20 acres. The complex features nine baseball and softball fields, 12 tennis courts and three basketball courts. A city-owned park currently under construction will complement the recreation complex, providing basketball courts, tennis courts, concessions stands, a walking trail and spraygrounds.
The McGinley Fitness Center is now open at Fordham University. The 9,000-square-foot facility is in the basement of the building but highly visible from the lobby, which features a glass facade and an angled feature wall to help lead visitors into the fitness center. The fitness center, designed by Jack L. Gordon Architects of New York, includes areas for cardio, strength training, group exercise and free-weight training, and flat-screen TVs will be located throughout the facility.
The Westmount Recreation Centre opens its doors this month in Hamilton, Ont. At 50,000 square feet, the center is the largest in Hamilton, featuring an eight-lane lap pool, a leisure pool with a water slide and a therapy pool; a double gymnasium; centers for both youths and seniors; and a fitness studio. The $21 million project was designed by Lintack Architects Inc. in collaboration with Invizij Architects, both of Hamilton.