Just as the architecture of athletic, fitness and recreation centers has evolved over the years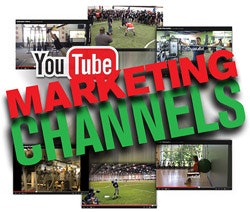 (Screen Captures From YouTube)
Just as the architecture of athletic, fitness and recreation centers has evolved over the years - leaving some facilities behind - technology moves quickly. That's why Total Sports Complex, a performance and training facility in Wixom, Mich., is building a formidable video library to bolster its brand with promotional pieces, events and even game clips that allow youth players to introduce themselves as if they were on national TV.
"We don't feel it's an overstatement to say that having a web presence that is easily viewed on any screen size is absolutely crucial to any business today," says Tony Moscone, Total Sports Complex's general manager. That's why San Bruno, Calif.-based online video goliath YouTube has become such a key component in the facility's marketing mix.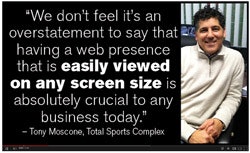 Earlier this year, YouTube made it even easier for facility operators to embrace video technology while boosting their overall online presence. The third-most-popular site on the Internet - averaging more than one billion unique visitors each month, just behind Google and Facebook, according to market research firm Alexa - rolled out a major upgrade designed to enhance the appearance of any company's website accessed via a YouTube channel. "The main focus is to make your new channel look great on browsers across all screens and devices," says Jeb Havens, a product manager at YouTube.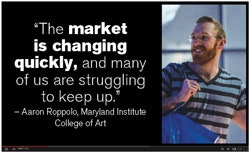 The free solution, dubbed the YouTube One Channel, helps businesses eager to develop a greater online presence (even if they don't have the time, resources or fortitude) to execute a complete redesign of their current website. "The market is changing quickly, and many of us are struggling to keep up," admits Aaron Roppolo, fitness director at the Maryland Institute College of Art in Baltimore, which introduced its new fitness center in 2011 via YouTube.
Facility operators can use YouTube to develop a mobile presence on the web while retaining their current website for Internet users who opt for more traditional desktop and laptop computers.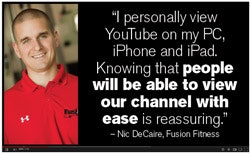 Nic DeCaire, president of Fusion Fitness Center in Newark, Del. - which takes advantage of YouTube to provide fitness tips, exercises and messages to members - shares Moscone's desire to allow facility users to watch videos on all screen types and sizes. "I personally view YouTube on my PC, iPhone and iPad," he says. "Knowing that people will be able to view our channel with ease is reassuring."
"We're doing a lot with video," adds Scott Peden, Butler University's director of recreation. "We realize that even though close to 90 percent of students are regular users of our facility, there's still that 10 percent that we're not getting, and part of the reason we think is that intimidation factor. They've not been active before and they're afraid to come into a building with people who are in shape and they're not, and they're not going to know how to use the equipment. We're trying to do a lot with video that orients people to how to use a treadmill and what to do in terms of dumbbells. They can educate themselves in their dorm room and feel a little more confident when they come into the building."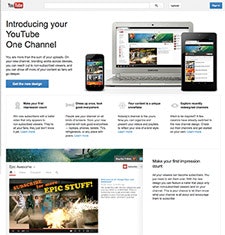 GETTING STARTED
YouTube now offers a one-size-fits-all website by stripping down a facility channel's home page to its bare essentials. The page can be personalized by uploading a banner featuring a logo or other identifying graphics that run along the top of the page.
The rest of the home page is standardized with a white background and dominated by a wide middle column flanked on each side by a much skinnier column. The wide column, which resembles the newsfeed column on Facebook, contains all the action. There, facility operators can arrange videos into playlists.
A navigation bar just below the company banner in the middle column, allows visitors to access videos in other ways, view and participate in discussions about videos and read more about the facility.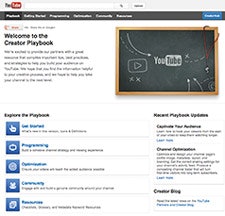 But perhaps the best news about YouTube's update is that developing a channel requires little technical know-how. Here are some tips to get started, provided by YouTube's team of experts:
• Make the decision to go visual: Acquiring a business channel on YouTube takes mere seconds. Create an account, sign in and - ta-da! - you have your own video channel.
• Upload a banner: Banners are the sole piece of artwork, other than actual videos, that personalize a new YouTube channel's home page. You'll probably want to give the banner some thought. The optimum size for the banner is 2120x1192 pixels, and YouTube offers a tutorial on how to get the most out of that banner.
• Upload your first video: This process also takes just a few seconds. Once your video is posted, you'll be prompted to give it an easy-to-understand title, a description and some "tags" - keywords that search engines will use to direct web users to your video channel.
• Prioritize appearance of critical videos: Once you've uploaded a number of videos, you'll be able to use a new feature from YouTube to position the most important videos at the top of the channel's page.
• Consider organizing videos by playlists: Playlists allow businesses to arrange videos by theme. You may want one playlist devoted entirely to instructionals, another one focused on messages to members and a third providing information about programs and services.
• Create a TM"welcome" video: Another new feature of the upgrade is a "welcome" video, or trailer, which can be programmed to play for visitors new to your YouTube channel, then disappear when YouTube acknowledges that a particular viewer has subscribed to your channel. "A compelling channel trailer is the most engaging way of introducing your channel and encouraging viewers to subscribe, so they'll make you part of their YouTube habit," says Andres Palmiter, an audience development strategist at YouTube.
THINK VISUALLY
After a facility's YouTube channel is up and running, populated with at least a handful of videos, options abound to take your YouTube presence to the next level:.
• Manage the global change tool: YouTube now gives users the ability to make global changes to the specs associated with their videos. For example, you may eventually decide that you want to run YouTube ads before your videos play to generate some extra revenue from your online video presence. YouTube's so-called Bulk Action Tool enables you to make that change to all videos simultaneously. You also can recategorize all videos with a single action and change the format of ads that run with your videos.
• Leverage YouTube analytics: With YouTube's free analytics, users can learn about who is subscribing to their channel, as well as access the number of views for each video, analyze how long a person watched each video and determine at what point in the video viewers left. In short, YouTube analytics will tell you what's going on with your videos and suggest ways to improve what you're doing.
• Embed a YouTube player on your facility's traditional website: You can embed a YouTube player on your facility's website for visitors to view all of the videos on your YouTube channel. Click the "Share" button under a video you've posted on YouTube, then click "Embed." You'll be presented with a single line of code that can be embedded on any page of your traditional website.
Butler's Peden realizes that not everyone who watches videos created by the university's recreation department are going to turn into regular viewers, website visitors or rec center users. "But," he says, "we want to do everything we can to maximize our attendance."