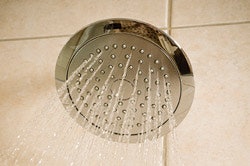 (© Adam Korzekwa/Istockphoto.com)
We recently partnered with the owner of a new CrossFit affiliate in our area. There were a number of business reasons behind our investment. We have been watching the growth of CrossFit and determined that our community was sufficiently ripe for it, and we were confident that it would not negatively impact our existing gyms. But here's the real reason we were enthusiastic about CrossFit: No locker rooms!
Most CrossFit locations, like Curves and other small studios, simply don't offer locker room facilities. Sure, they all have men's and women's restrooms, but that's it. No showers. No rows of sinks. No steam rooms. No worries about towel hooks ("Can you add more?") or shower caddies ("I don't have room for my soap, shampoo, conditioner, razor and shaving cream."). We have got six locker rooms to deal with between three locations, and we wouldn't have been able to take any more. At CrossFit, you workout, use the restroom, wash your hands and leave. It's like heaven.

TOILET TOILS
The wet areas of our locker rooms have become the bane of our existence, and nothing compares to dealing with waste - and we're not talking about used paper hand towels that missed the basket. This seems to be the Year of Human Feces in our main club's locker rooms. Nobody ever warns you about such things in "How to Run a Health Club" class.
It started with a stray poop in the women's locker room, the likely product of one of our little angels in morning daycare. It had - shall we say - petrified before we became aware of it, and our front-desk person had the pleasure of disposing of it. Oh, but things had just gotten started for her.
Not a week later, one of the toilets in the women's locker room clogged. Our intrepid front-desk person grabbed a plunger and figured she'd have it fixed in a jiffy. She did, but only after the water in the toilet exploded backwards onto her. Given these two human-waste-related issues within seven days, we offered to our employee that if she wanted to quit we would certainly understand and we'd give her a fine recommendation. She chose to keep her job, so we got her a nice gift certificate (and paid for her dry cleaning).
Not two weeks after that it was Rob who had the pleasure of dealing with a fecal mess in the men's locker room. Our guess is that a kid let himself go right onto the tile floor near one of the toilets, and then someone stepped in it and spread it all over. Rob was not given the option to quit, nor did we give him any special gifts. We were, however, going to call the advertising agency that came up with the "Clorox Moment" ad campaign and say, "Have we got a disinfecting moment for you!"
When our new location opened several years ago, the toilets in the women's locker room would clog literally every day and the sewage would back up into the women's showers. For weeks, we fought with the landlord and his plumbing contractor, who insisted that our members were putting paper hand towels into the toilets. Their logic was that toilet paper couldn't be causing the clogs, so the white mass they saw flowing by every time they cleaned out the pipes had to be - just had to be - hand towels.
To prove our point, we removed all of the paper hand towels from the women's locker room, using cloth instead, and the problem kept occurring. This went on for weeks until finally, upon threats of lawsuits, they jackhammered in a new run of pipes to solve the problem. It was a miracle! But we sure did learn a lot about unclogging pipes during that time. (Lesson #1: Get sturdy rubber gloves.)
You want more? Let's talk regular maintenance. The dripping sinks. The urinals that won't stop running. Oh, almost forgot about urinal pads. Those are fun to dispose of. They sit under the urinal and become giant urine-soaked sponges. A staff member once put a trash bag with soaked urinal pads in our break room, forgetting to take the garbage out to the dumpster. It took about two days to get the smell out of the air.

(© Janice Richard/Istockphoto.com)
SHOWER DRAIN
And that brings us to our showers. Why, oh why, do members destroy showerheads? What could they possibly be doing to tear them off the walls? Maybe our members feel suddenly faint and need the shower head to prevent a nasty fall? Or maybe some people are just jackasses and think that damaging property is funny? We have no idea.
What about the walls themselves? When we renovated our main club several years ago, we built tile showers. They were beautiful, but they were a maintenance headache. We had to re-grout at least once a year, and members always mistook changes in grout color for mold, which it wasn't. So, during Christmas week 2012, before the New Year's rush, we decided to retile portions of our showers. We closed them off completely so that we could get the job done quickly. It was supposed to be a three-day project that would cost about $3,000, but it turned out that the water damage behind the tiles was bad enough to warrant some extreme measures.
We tore out all of the showers and decided to go with fiberglass walls. It would add some time to the project, and we'd be giving up the look of the tile, but we'd gain the cleanliness and ease of fiberglass.
Then, a funny thing happened. Our contractor, who had come highly recommended by a trusted vendor, was totally ill-equipped for such a project. Chosen materials made no sense for the job. After three weeks we had workers slap up whatever they could to hold us over, with two showers working in each locker room. We resolved things financially with those guys, and we moved on to doing one shower at a time, working with a new contractor who came only during the evenings. It took six months and $15,000. To call it a nightmare would be an understatement.
So, say what you will about CrossFit. Maybe you love it. Maybe you hate it. Maybe you find the CrossFit affiliates in your town as bothersome to your business as any other competitor. But they've got life without locker rooms. And life without locker rooms is happy.