Multi-million dollar state-of-the-art student recreation and wellness facilities are de rigueur on major college campuses, as students expect more out of their educational experience than just a degree.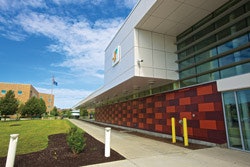 (Photo courtesy of Onondoga Community College)
Multi-million dollar state-of-the-art student recreation and wellness facilities are de rigueur on major college campuses, as students expect more out of their educational experience than just a degree. That expectation is trickling down to even the commuter and community college levels, where offering such amenities hasn't been considered feasible. "The students have wanted to be able to build a student center and exercise facility that would provide a sense of community and a reason to be on campus outside of academics," says Harlan Patterson, vice chancellor of Administrative Services at the University of Washington Tacoma, which started out as a commuter college in the 1990s but has since grown into something more.
The university did have the space to build such a facility, but lacked the experience to run it. That's where the YMCA of Pierce and Kitsap Counties came into play. "We have a huge compatibility of missions," Patterson says. "We're about building healthy communities through healthy mind and body. We're a little bit more on the mind and the Y's a little bit more on the body, but we both agree that it's good to have both components."
"It made sense to work together," agrees Ronn McMahon, senior vice president of financial development and strategic collaborations for the YMCA of Pierce and Kitsap Counties. "They have the ability to build a facility and we have the operational experience and skills to run it. This partnership was so compelling that although we didn't have plans to build another downtown location, because of the university's desires and needs long-term, this just made a lot of sense for us."
And thus the plan for University Y, as it will be known when it eventually opens, was set into motion.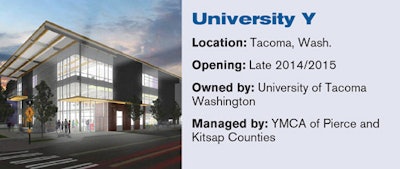 (Rendering Courtesy of UW Tacoma)
UNIVERSALLY UNIQUE
Public-private partnerships are becoming more common, and although partnerships between colleges and YMCAs are rare, they're not unheard of. The idea that sparked the partnership in Washington was one that UW Tacoma's chancellor had brought with her from her previous experience working with Arizona State University's downtown campus and partnering with the local Y. "The partnership started in 2006, when ASU built a campus downtown," says George Scobas, CEO of the Valley of the Sun YMCA in Phoenix, which owns and operates YMCAs on a handful of college campuses in the area. "At that point, enrollment was about 2,000 or 3,000 students, and they asked if the Y would be their recreation center."
The Lincoln Family Downtown YMCA welcomed the students, but as enrollment expanded to nearly 20,000, the need for ASU's own facility became apparent. The university-owned and -operated Y@ASU officially opens next month, and with it comes a physical as well as operational link to the YMCA. "They're connected," says Scobas. "We've taken our building here and attached an additional building with a breezeway between the two. YMCA members can go to ASU's rec center and students can go to the Y."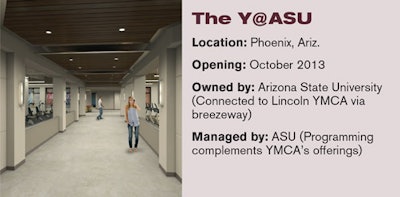 (Rendering courtesy of Valley of the Sun YMCA)
While some higher-demand functions, such as fitness equipment and spinning rooms can be found on both sides, others are unique. "We have handball courts and a free-weight area, they have the jogging track," Scobas explains. "We have an indoor pool, they have a rooftop pool."
Across the country in New York, Onondaga Community College is going on its third year partnering with the YMCA of Greater Syracuse on operations of the Southwest YMCA. "It has been a work in progress," admits OCC athletic director Rob Edson. "Nobody's ever done this before; there wasn't a roadmap that we could follow. There wasn't anybody that we could call and say, 'Hey how did you handle this aspect?' even from the Y's perspective."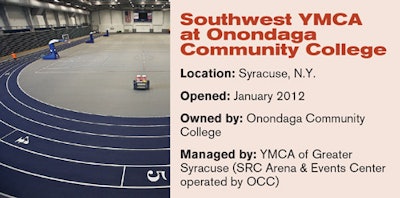 (Photo courtesy of Onondaga)
The relationship looks a bit different everywhere. The University Y in Tacoma will essentially be a fitness center with a special area set aside for student services and student government, built by the school and run by the Y. At OCC, the partnership built off of the college's existing facilities and incorporates not just fitness areas, but a gym, an arena, a track, classroom spaces and an outdoor recreational field. The breakdown of responsibilities remains nearly identical in both cases. As Edson explains, "The college has hired the YMCA to manage the operations for a series of health and wellness initiatives. We handle the operational aspects of the arena and the facility. The Y is operating the programs."
However a partnership unfolds, the devil is in the details, says McMahon. "One of the things about these collaborations is that at a very high level, they all make perfect sense - we say the university will benefit, the students will benefit, the Y will benefit - but when you work through partnerships, it's the details and the contracts and all the different entities making it all work."
A BALANCING ACT
For all the work they've done already, UW Tacoma and the YMCA understand that the process won't end when the doors open. "We have an advisory committee that will be students and Y representatives sitting down annually and reviewing what the program includes," says Patterson. "These programs evolve and change, so we don't really know what we're going to want to be there 10 years from now; some of them might not have been invented yet."
It's that focus on communication and willingness to change that Edson credits with the success of the partnership at Onondaga. "Every year, you can almost make the argument that half of your student population is new," he says. "We have to communicate to them what we're doing, why we're doing it and how we're doing it. This is a facility that hosts academic classes, athletic events, health and wellness activities and shows. Trying to be as efficient as we possibly can so that we're programming to all of those populations has required a lot more attention and communication than just publishing a schedule."
Balancing the two populations served has been more of a challenge than the two entities originally imagined. While students and YMCA members may be seeking the same benefits from a trip to the fitness facility, that doesn't necessarily mean they want to share the same space while they're there. "Frankly, sometimes students weren't comfortable with having a group of younger children in there, and parents weren't really comfortable with a group of college students," says Edson.
In a move that may seem counterintuitive in light of its focus on students, the Southwest YMCA instituted a concept of family time, setting aside a window of time four days a week specifically for public use of the fitness center. By giving families a specific time to work out together, though, their presence during other times is lessened.
On the flip side, programming intended to serve just one group or the other, like student intramurals, are finding better success by teaming up. "We have some activities, like our badminton groups, that have merged," says Edson. "We're trying to find out if there are other areas where we can create synergies and whether it makes sense to create those synergies."
Though the partnership at Onondaga is entering its third year, Edson says it still feels like the startup phase. "It's been a successful partnership thus far, but there's still a lot of room to grow," he says. "Every semester brings new challenges and a new perspective. It's an opportunity for us to continually improve and stay on our toes."
Once the two entities have mastered - or at least become more confident - in their operational partnership, Edson anticipates the payoff will continue to increase, bringing more opportunities for both students and YMCA members - opportunities neither entity could have offered alone.
It's the same potential payoff driving the hard work going on at UW Tacoma. "The idea of public-private partnerships is happening across the country," says McMahon. "With the university, it might still be a little unique. Just be open to the possibilities and keep your eye on how it's going to benefit the students and the community, not the model you already know."