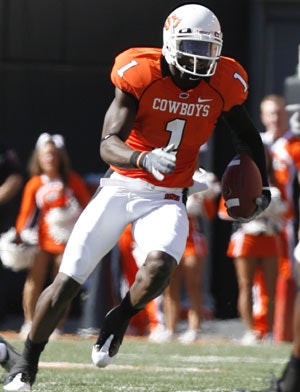 In a world in which professional sports have been elevated to the level of seriousness once reserved for arms-control negotiations, this is how bad things have gotten. During a pre-draft interview with Oklahoma State wide receiver Dez Bryant (who beginning this year will earn tens of millions of dollars after being picked in the first round by the Dallas Cowboys), Miami Dolphins GM Jeff Ireland asked a very logical question that is widely viewed as the equivalent of a nuclear strike. If you haven't heard the story, the conversation went like this:
Ireland: What did your dad do for a living when you were growing up?
Bryant: My dad was a pimp.
Ireland: What did your mom do?
Bryant: She worked for my dad.
Ireland: Your mom was a prostitute?
Bryant: No, she wasn't a prostitute.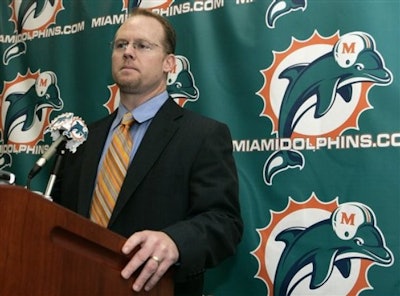 Bryant's subsequent outrage to reporters (Ireland has since apologized for, in essence, connecting the dots drawn by Bryant) is more than a little ironic, given the recent changes in the relationship between sports franchises and sports reporters. The reversal of fortune experienced by professional athletes and erstwhile media tycoons over the past few years resulted in two alarming developments just last month:
• At the University of Tennessee, members of the media were allowed to attend an otherwise closed football scrimmage, but were charged $50 apiece by the athletic department for the privilege. This one's a real head-scratcher - I mean, the Vols' budget for sports in 2009-10 was $102.45 million.
• In New Jersey, Gannett newspapers began running stories about the NHL's Devils bylined by Eric Marin, who is not a reporter but an employee of the Devils. Hollis Towns, executive editor of The Asbury Park Press, the largest of the state's six Gannett newspapers, commented, "I think journalists get hung up on certain lines of what's ethical more than the readers."
I think he's right; I guess I'm old-fashioned enough to believe that AB readers would rather that when I write about about turf safety issues, I draw my paycheck from a publishing company and not from, say, the makers of AstroTurf. I was heartened a bit by the take offered by Tennessee Titans coach Jeff Fisher in a story in The Tennessean about the Vols' closed practices: "I think the media has a right to know what's going on at practice … I've always felt we have a responsibility to our fans, and obviously the media is a conduit to the fans."
I still think of Fisher as being young, but with the retirement of Bill Cowher from the Pittsburgh Steelers, he actually became the longest-serving NFL head coach with the same team. He's a throwback now, from an era in which team owners and athletes needed the media to help establish or burnish their reputations, help them survive scandals and so on. There are other, more immediate conduits to the fans now, and teams and athletes can craft their own messages, decide what news gets out there and what stays out of sight. It's also ironic (as long as we're talking irony here) that those same, more-immediate conduits can get athletes in a whole heap of trouble quicker than you can say Ben Roethlisberger.
My question regarding the Ireland case is, if the reporter covering the Dolphins was an employee of the team rather than a member of the media, would it have even been reported? I suppose Bryant might have Tweeted about it. Sigh.