As many as half of all Major League Baseball teams include concessions credit in their ticket prices on certain dates or in designated seating areas. Now, at least two teams - the Cleveland Indians and the Cincinnati Reds - have made their ballparks a weekday lunchtime destination when an afternoon game is scheduled.
In Cleveland, the Indians encode $10 worth of concessions credit into $15 upper-level tickets as part of their so-called "Lunch and Three Innings" promotion. "I can walk to a nice venue and take a longer lunch hour while watching part of a game," Lisa Leemans, a senior vice president at KeyBank in downtown Cleveland told Pat Galbincea of The Plain Dealer. "It beats eating lunch at your desk." Leemans can spend her $10 anywhere at Progressive Field, but she instead chooses ballpark staples - a hot dog and soda - stating, "You can't go to a baseball game and not have a hot dog with Stadium mustard."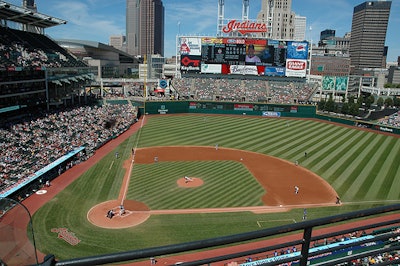 Nearly half of the 3,065 walk-up tickets sold July 1, when the Indians hosted the Toronto Blue Jays at 12:05 p.m., were for "Lunch and Three Innings" - a bit of a misnomer, considering the Indians have no intention of tossing anyone out of the park in the top of the fourth. The promotion is "an interesting idea," says concessions consultant Chris Bigelow, of The Bigelow Companies Inc. And while teams may be promoting "stopping by the park for lunch and returning to work," Bigelow realizes that "folks going to the game will be tempted to stay the entire time."
During which they'll likely spend even more money out of pocket. "Maybe we don't promote this enough," Indians vice president Bob DiBiasio told The Plain Dealer. "But it has been popular with business people and some people who just want lunch included with their ticket." Even non-profit groups are taking full advantage. Dale Stewart, youth director of the YMCA in Willoughby, Ohio, purchased enough tickets to feed 269 day-campers at the July 1 Jays game. "It's a good way for us to reasonably afford to take that many of them to a baseball game," Stewart said. "You're basically paying $5 a ticket."
But fans shouldn't be the only ones satisfied in this scenario. Adds Bigelow, "When marketed well, using the loaded ticket to sell either higher-priced tickets or traditionally unsold tickets to smaller-crowd games can be a very valuable strategy for the team and the concessionaire."