It hasn't hosted a game yet, but here are some statistics worth noting about the New Meadowlands Stadium, set to open next month in East Rutherford, N.J. A $100 million investment in technological infrastructure has translated into 2,200 televisions with 48,000 square feet of screens - the most of any NFL stadium, even Cowboys Stadium with its enormous video boards, according to a report in The New York Times.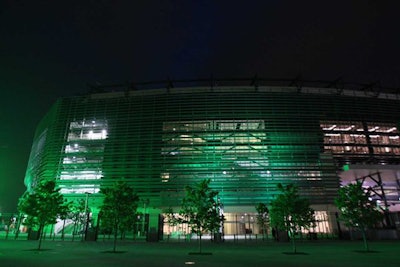 In addition, 500 wireless antennas will allow fans attending New York Jets or Giants games to access free smart-phone applications that provide video replays, statistical updates and live video from other games. Alerts will point fans to the least populated concessions stands, the location of lost children (with the help of special security bracelets) and the quickest traffic routes home. Eventually, the apps will expand to chart the speed of players and facilitate the playing of fantasy games against other fans.
Powered by Cisco and Verizon, the wireless technology will function only inside the stadium. It's seen as a way to provide ticket buyers with an experience they can't get at home watching the game on television, which has become an increasingly preferred option in the hi-def era, not to mention a slumping economy. While an average of 16.6 million TV viewers watched NFL regular-season games last season (the most since 1990), game attendance has dropped more than 3 percent from its 2007 pinnacle.
Initial reaction to the game-day innovations was heavy on skepticism. "This is just another step in rendering the game itself irrelevant," wrote one Times reader. People, added another, "have forgotten how to relax and be in the moment," and instead they "need a constant barrage of relatively meaningless information, so much so that they are not really engaged in either the game or the people around them."
Former television production executive Peter Brickman, who pioneered the popular red-zone alerts for DirecTV's NFL Sunday Ticket before being hired last year as chief technology officer for the New Meadowlands Stadium, estimates that 7,000 to 10,000 fans will utilize the smart-phone apps at games this season (the stadium seats 82,500). Meanwhile, other NFL teams are planning to introduce similar technology to their stadiums. "It's great to be at the game, but you miss things," Matthew Stone, a San Francisco 49ers season-ticket holder, told Times writer Michael S. Schmidt. "I think an application is a great idea."