Almost a month after the conclusion of the World Cup, which introduced the vuvuzela's incessant buzz to the rest of the world, sports organizations and facilities in North America and elsewhere have begun to ban the instrument.
This week, basketball's governing body declared vuvuzelas ineligible for the FIBA World Championships, which begin later this month in Turkey. Organizers say vuvuzelas used indoors could damage hearing and make court communication difficult. (A fan favorite in South Africa, the horns have been known to emit as many as 144 decibels - that's louder than an air horn or a passenger jet.) FIBA warned that the instruments will be confiscated and the ban will be enforced at all indoor tournaments. Anyone bringing a vuvuzela to a FIBA basketball venue risks getting bounced.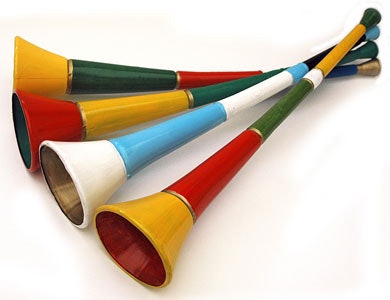 New Meadowlands Stadium also announced that "noisemakers including whistles, vuvuzelas, plastic horns or air horns of any size" won't be permitted during next Tuesday's soccer match between the United States and Brazil. A yellow-box "stadium alert" on the venue's home page sends the message loud and clear.
But in Detroit, owners and managers of the Silverdome are still asking for fan input regarding the use of vuvuzelas at tomorrow's "Match of the Titans" featuring AC Milan and Panathinaikos FC. Online voters can click either "love them" or "ban them" in a poll that had generated more than 1,670 votes by Thursday morning. No word on when the poll closes, but "ban them" was leading the way with 59 percent. "The most important thing is the fan experience," says Steve Apostolopoulos, director of sports for Triple Sports & Entertainment, which manages the Silverdome. "Many people say they don't like the vuvuzelas, but plenty of fans clearly enjoyed blowing them in the stands at the FIFA World Cup. We're trying to see how many of our potential visitors feel strongly one way or the other before we make a decision."