When the University of Louisville unveiled 13,000 new seats at Papa John's Cardinal Stadium on Saturday in a 23-16 loss to in-state rival Kentucky, school officials also sent a strong message to fans who smoke: There are no longer designated smoking areas here - and if you leave the stadium to light up, you won't be allowed back in.
It's the same story at the University of Michigan, where all designated smoking areas at Michigan Stadium are gone this season. Stadium policy prohibits readmission to individuals who exit the stadium, so (as in Louisville) smokers who cannot go without a cigarette for three hours and need to step outside the gates also cannot return. Both universities are, or soon will be, smoke-free - although Louisville does have designated smoking areas throughout campus.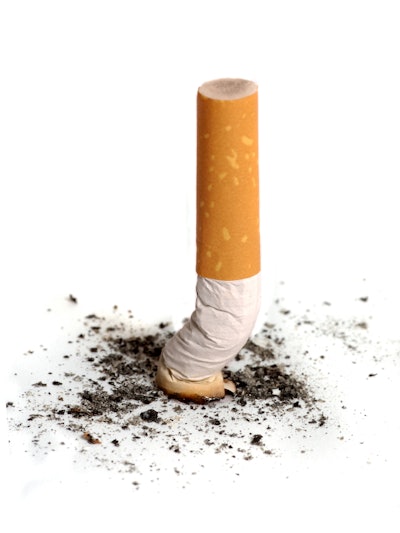 "It's a violation of individual rights," Michigan senior Alex Biles, vice president of the school's College Libertarians, told The Detroit News. "Individuals should be allowed to enjoy smoking as long as they are not hurting anyone else."
But they are, argues University of Louisiana spokesperson Mark Hebert. "Our goal and our mission as a university is to provide a healthy environment for everybody here, and we're the campus that goes out and does research on cancer," Hebert told local ABC affiliate WHAS11.com. "We're trying to fight cancer and get Kentuckians to be more healthy, and we can't very well say we're trying to do things to make Kentucky more healthy, but we're allowing smoking on our campus."
State laws banning smoking in workplace environments or areas where food and alcohol are served have led to similar clampdowns on lighting up at NFL stadiums. Hugh Alexander, a 47-year-old Carolina Panthers season ticket holder, almost sold his seats after he caught wind of the new policy at Bank of America Stadium, which prohibits smoking in all areas. Violators will receive one warning before being ejected. Stadium officials considered creating a "bullpen area" for smokers outside the stadium, according to The Charlotte Observer, but determined that it would not have been feasible for a facility with a capacity of 70,000.
Despite the recent outcry, smoking bans have been implemented at several other major stadiums during the past few years. The University of Tennessee's Neyland Stadium, in compliance with the state's "Non-Smoker Protection Act," went completely smoke-free in 2007, as did PNC Park in Pittsburgh, prompted by Allegheny County's anti-smoking ordinance. But at FedEx Field, Washington Redskins owner Dan Snyder has found a loophole in Maryland's Clean Air Act of 2007, which shut down a cigar bar on the stadium's loge level. As Washington City Paper's Dave McKenna recently reported, Snyder secured an exemption that allowed the Redskins to open a cigar store on the stadium's pricey Joe Gibbs Level and call it a "tobacco shop" - which the law states is exempt from Maryland's Clean Indoor Air Act.