Pittsburgh's PNC Park may be Major League Baseball's host with the most toilets, but we might never know for sure. TicketLiquidator, an online sporting-events ticket source, set out to determine the quality of MLB stadiums based on the number of toilets each one offers. After all, the company reasoned, baseball stadiums are ranked often enough by design, food quality and spectator views. So why not the number of toilets?
But, according to a press release issued by the company this week, more than half of the teams refused to provide a response to TicketLiquidator's inquiry - thereby flushing down the, um, toilet any credibility such a survey could have. "Top baseball stadiums are quick to dish about the quality of seating and luxury skyboxes, but some have decided [to keep] lavatory affairs a private matter," the release read. "In other words, for half of the teams in baseball's highest echelon, toilet capacity is taboo."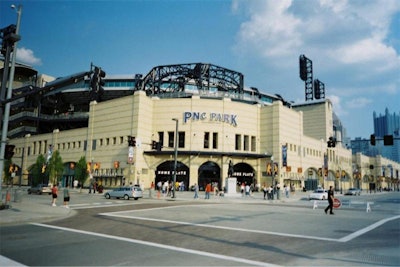 Of the teams willing to relinquish their restroom data, the Pittsburgh Pirates were ranked the highest, with a fanny-friendly 1.89 toilets for every 100 seats at PNC Park, followed by the Chicago White Sox, with 1.69 toilets per 100 seats at U.S. Cellular Field.
Here are the full rankings of teams willing to respond:1. Pittsburgh Pirates: 1.89 toilets per 100 seats2. Chicago White Sox: 1.69 toilets per 100 seats3. Minnesota Twins: 1.62 toilets per 100 seats4. (tie) Cincinnati Reds: 1.58 toilets per 100 seats Kansas City Royals: 1.58 toilets per 100 seats6. (tie) New York Mets: 1.54 toilets for 100 seatsColorado Rockies: 1.54 toilets for 100 seats8. (tie) Seattle Mariners: 1.49 toilets per 100 seatsNew York Yankees: 1.49 toilets per 100 seats10. St. Louis Cardinals: 1.45 toilets per 100 seats11. Arizona Diamondbacks:1.44 toilets per 100 seats12. Cleveland Indians: 1.36 toilets per 100 seats13. Atlanta Braves: 0.892 toilets per 100 seats14. Oakland A's: 0.699 toilets per 100 seats
The Detroit Tigers, Chicago Cubs, Houston Astros, Milwaukee Brewers, Texas Rangers, Los Angeles Dodgers, San Diego Padres, San Francisco Giants, Los Angeles Angels of Anaheim, Florida Marlins, Washington Nationals, Baltimore Orioles, Philadelphia Phillies, Tampa Bay Rays, Boston Red Sox and Toronto Blue Jays refused to provide TicketLiquidator with the number of toilets in their facilities.