There's no arguing that concussion awareness is at an all-time high. But, sensing that different groups of individuals are responding to the issue with varying degrees of urgency, ESPN The Magazine recently surveyed 300 high school football players, 100 high school football coaches, 100 certified athletic trainers and 100 parents - asking for opinions on such questions as how long concussed players should be benched. The results, published in the Dec. 27 issue and posted online this week, suggest that players themselves might be "the biggest block to diagnosis and prevention."
"Everyone is doing their part, except the player," a certified athletic trainer in Illinois told the magazine. "If you are concussed, you don't play. But players won't accept that."
Players worry the least about concussions, according to the survey, which presented all respondents with the following question: "Your team is in the state title game, and your star gets a concussion. Would you rather lose the game as he sits out, or win because he chose to play with it?" The majority of players (54.1 percent) would keep the concussed player on the field, compared to 2.1 percent of coaches, who would demonstrate more caution than even parents (6.1 percent) and certified athletic trainers (9 percent).
Additionally, more than half of all players surveyed (55.4 percent) think that if a teammate complains of a headache during a game, it's OK for him to return to play - even though studies have shown that a headache is the leading symptom of a concussion.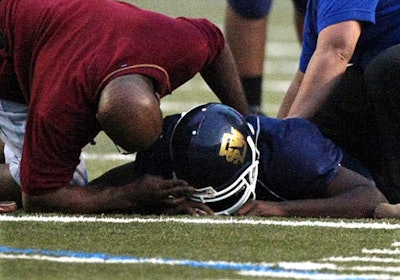 Meanwhile, when asked to grade the condition of their team's helmets, players gave out more Fs (12) than the other three groups combined (4), but the average grades ranged from A- to B.
For a breakdown of how players, coaches, parents and athletic trainers responded to the series of seven questions, click here.
ESPN The Magazine's survey results correspond with those of The Hockey Concussion Education Project (HCEP), which was conducted in Canada during the 2009-10 junior hockey regular season with 67 male ice-hockey players between the ages 16 and 21. Those results showed "a disturbing lack of compliance by the athletes to undergo requested neuropsychological evaluations and multiple physician visits, as well as a lack of understanding about the seriousness of concussion," according to Charles Tator, a Toronto physician and co-author of the project's study.