It's an arms race with legs, heads and torsos, too.
The universities of Florida and Alabama have within the past two weeks dressed up their football stadiums with statuary, and Southeastern Conference rival Auburn has announced it will do likewise, leading some observers to question what represents the bronze standard these days.
At halftime of its spring game, Florida unveiled statues outside The Swamp of its three Heisman Trophy winners - Steve Spurrier, Danny Wuerffel and Tim Tebow, who is now immortalized at the advanced age of 23. A-Day festivities at Alabama featured two Nick Sabans - one being the actual head coach of the Crimson Tide, the other being a larger-than-life rendition of said head coach. The real and historically transient Saban has been in Tuscaloosa all of four years; the fabricated one outside Bryant-Denny Stadium isn't leaving any time soon. Apparently, one national championship casts you in the same light (and weather-resistant metal) as the legendary Paul "Bear" Bryant. Never mind that Bryant's Tide rolled to six national titles over a quarter century of service to the university.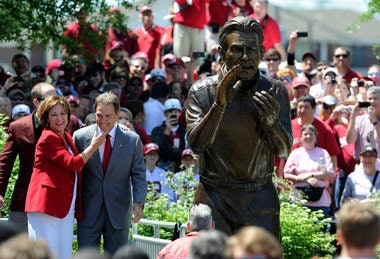 But the real head-scratcher is Auburn's decision to erect a statue of Cam Newton, the living memorial to one-and-done collegiate athleticism. Newton indeed won a Heisman, just like fellow Tiger alums Pat Sullivan and Bo Jackson (John Heisman, the former Auburn coach for whom the trophy is named, will get his own bust when the display debuts next year), but a cloud of controversy still hangs over the almost-22-year-old Newton's legacy after one season at the school. As the half-million-dollar, donor-funded likenesses of the Auburn three are in the works, NCAA investigators are still trying to determine whether Newton's father pocketed tens of thousands of dollars from AU boosters during Cam's recruitment.
"Is it just me, or didn't giving someone a statue used to feel rarer, different, more discriminating and important?" asked Johnette Howard yesterday at espn.com. "Didn't persuading someone to cast you forever in bronze use to require a bit more gravitas - not just one good BCS Championship Game?"
"There's an arms race going on among a lot of these sports people, but it's especially true right now in Southern football," sculptor Harry Weber, who cast the Cardinal hall-of-famers assembled outside Busch Stadium in St. Louis, told Howard. "I think it's all just part of the instant-celebrity, instant-veneration thing America has going on."