To its credit, Penn State University didn't wait for the findings of an internal investigation into the Jerry Sandusky child-abuse scandal to implement a new policy regulating access to campus athletic and recreation facilities. It even has plans to renovate the Lasch Building, where some of the abuse took place. But now that the damning Freeh Report has cast legendary head coach Joe Paterno, among other high-ranking PSU officials, in an unenviable light, another facilities-related question confronts the school: What to do about the statue depicting Paterno - leading players onto the field with hand aloft in a number-one sign - that currently stands outside Gate F at Beaver Stadium?
Statues outside sports venues have become increasingly common - honoring coaches and players, even fans - but few honorees have carried the kind of gravitas that Paterno had at the time he was immortalized in bronze nearly a dozen years ago. But now that his mortal weaknesses have been laid bare, conventional wisdom seems to hold that the statue must come down. And it must come down Baghdad-style, according to one individual on Twitter. Berlin Wall-style, said another. A Facebook page has been dedicated to the cause. Sports blogger Jason McIntyre of The Big Lead tweeted, "Statue? Same idiot Penn St students who marched/rioted the night Paterno was canned should go tear down the statue themselves." Green Bay Packers tight end Tom Crabtree (who attended Miami of Ohio) volunteered for duty, stating, "I mean, if no one else is gonna do it, I'll take a sledgehammer to Paterno's statue."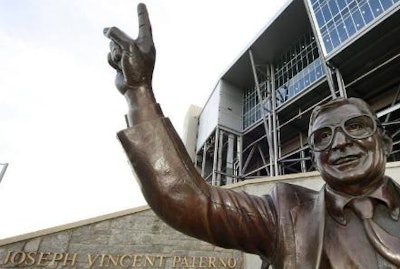 Former Florida State University head coach Bobby Bowden, who stands second only to Paterno in terms of career victories, has called for the statue's removal. And the list goes on. "Imagine what a statement Penn State would make if they took Paterno's statue down this afternoon," said sports business reporter Darren Rovell in the immediate wake of the report's July 12 release. Added NFL writer Albert Breer, "I feel like a lot of us gave Joe Paterno the benefit of the doubt early on. Now? I don't know how they can leave that statue up on campus."
Dave George of The Palm Beach Post offers one way. "Put four stone walls around it first, and a door with posted hours for viewing," George wrote July 12.
"Next, on the front of that structure, carve in large letters the following message. 'JOE PATERNO, Built Penn State Football Program Into a Nationally Recognized Fortress and Knowingly Enabled a Monster Who Sexually Abused Young Boys to Operate Within the Walls of That Fortress.'
"Finally, charge admission to enter the building and see the Paterno statue. It's the only way to guarantee that anything positive and tangible comes out of the Jerry Sandusky nightmare, providing, of course, that every penny of the proceeds goes to legitimate organizations that are dedicated to the counseling and care of children impacted by sexual abuse."
As literal indication of just how torn the public is over this, a note placed on the statue that reportedly read "Remember: He was a man, not a God!!!" has been ripped to now read "Remember: He was a God!!!"
What do you think? Should the statue remain as a reminder of all the good Joe Paterno did for Penn State, a cause supported by a petition at change.org (which, as of July 16, had 350 signatures)? ESPN reported July 15 that sources close to Penn State indicated the statute would stand, but the university responded later that day with a statement reading, "Contrary to various reports, neither the Board of Trustees nor University Administration has taken a vote or made a decision regarding the Joe Paterno statue at Beaver Stadium." Two days later, a plane buzzed the State College campus with a banner reading: "TAKE THE STATUE DOWN OR WE WILL."
Should the statue be replaced, as some have suggested, with a memorial to Sandusky's victims?
Or, should it come down once and for all, out of respect for those victims?
Ron Musselman, editor-in-chief of statecollege.com, tweeted July 17 that a PSU decision may be coming within the next week to 10 days.