Must we? Yes. In the interest of putting this peculiar obsession to bed, preferably with a stake through its heart - there is a Madden Curse. It is the bastard son of the NFL Curse and the Media Curse, and therefore, not a curse at all.
The 13th installment of John Madden's EA Sports videogame features Detroit Lions receiver Calvin Johnson, and Madden turned up yesterday to dispel the whole notion of the player appearing on the box being doomed to injury and, probably ignominy. "I was on the cover for several years, and I never once even pulled a hamstring," Madden quipped to the Detroit Free Press, before noting that football is a violent sport in which players regularly get injured.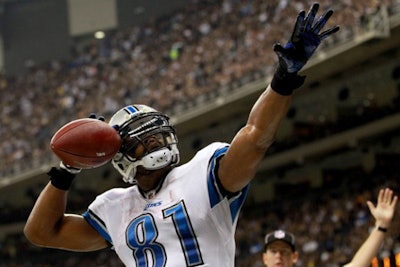 That's the NFL Curse in a nutshell. When you look through Time magazine's photo essay, "The Madden Curse: A History," you see an assortment of players tabbed to appear on the video's cover, many of whom did suffer an injury right afterward. Madden's right, of course - you could put pretty much any player on there and the odds would be good that he'd miss some playing time in the next year (or two - Time's explication of the curse shows that many players had stellar seasons after appearing on Madden's cover, only to get injured the year after that). And EA did put "any player" on there. Dorsey Levens? Did anyone think that he was a budding star? Peyton Hills? Seriously?
If you can fault EA, it's that they've put so many running backs (7) on the cover. The average NFL lifespan for an RB is four years. Running backs are always on the verge of a career-ending injury, losing their speed or retiring (Barry Sanders famously retired at the top of his game right after Madden 2000 hit the shelves bearing his likeness in the background behind a portrait of John Madden himself).
The other half of the curse's DNA, the Media Curse, can be summed up in four words: The media is dumb. Famously lazy and months if not years behind the Zeitgeist, by the time they get around to anointing someone, that someone is about to crash and burn. Peyton Hills was the one time EA went out on a limb and chose someone "promising," and while it didn't work out last season, you shouldn't be surprised if Hills now justifies the selection in year two. The funny thing about that selection is that people would have expected Peyton Manning on last year's cover - and look what happened to him.
Sportswriters are an even lazier and slower-on-the-uptake subset of the media, and therefore EA's honchos are screwed if they take their cues from them. One of my favorite summer pastimes is reading the NFL Preview in Sports Illustrated - every year, those guys basically pick all of last year's division champions, even though every year six of the NFL's eight divisions completely turn over. Sports guys write the hype, and yet they fall for their own hype every time. It's really comical, and the reason SI has a famous 'curse' of its own.
Last year's champions and stars mean nothing this year, especially in a league celebrated for its parity. Calvin Johnson could build on last year's insane numbers (1,681 yards, 16 touchdowns), but I wouldn't put any money on it. With his newly signed eight-year, $132 million contract, my expectation would be that his output will drop this season. And he'll get injured. And retire.